Celebrate the Holidays Downtown! Don't miss out on the local shops, Holiday Pop-Up Markets, The Christmas City of the North Parade, Bentleyville, Holiday Lights Contest, and more!
Listen to KOOL 101.7 December 6th through the 17th, 2021 for daily giveaways and extensive gift-giving ideas. Locally owned businesses have selected amazing items to be given away, just in time for Holiday gift-giving or as a gift for yourself. Take in the breathtaking color and lights this holiday season, and then listen to KOOL 101.7 to win.
Because gifts are better local...
December 18th Vendors
YØR Beadworks
Renewed Construction
Mago Glass
Woodwork by Dave Hoad
Winona Furever Fiber Arts
Katie Noel Cured
Blue Loon
Zim Zen Creations
Marcus Asmus Photography
Lake Avenue Restaurant
Support local this holiday season with a one-stop-shop, every Saturday! Browse the best seasonal and holiday items, made right here in Duluth - just like your favorite Hoops beer!
Date: December 18th
Location: Hoops Brewing
Time: 11am to 3pm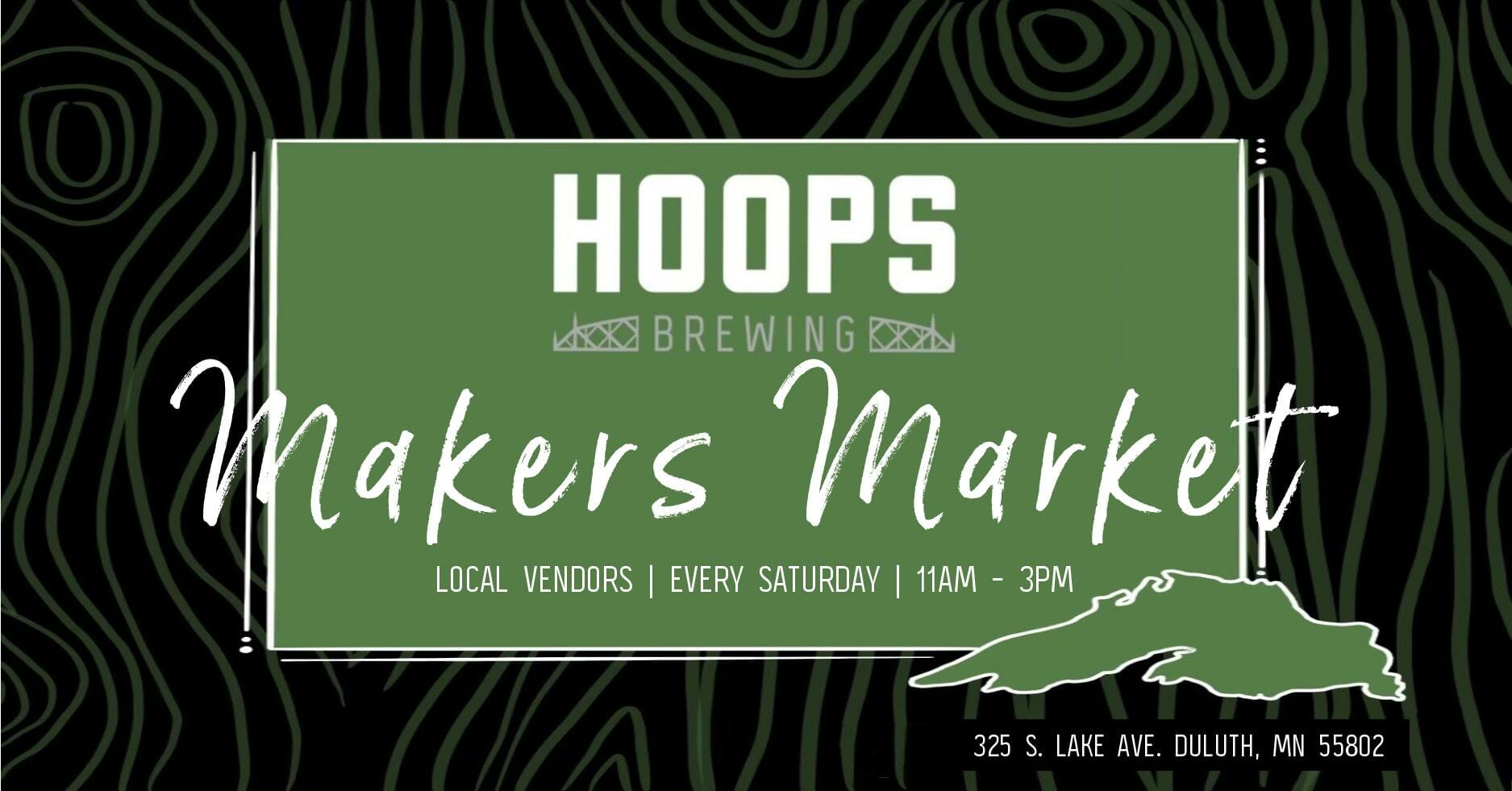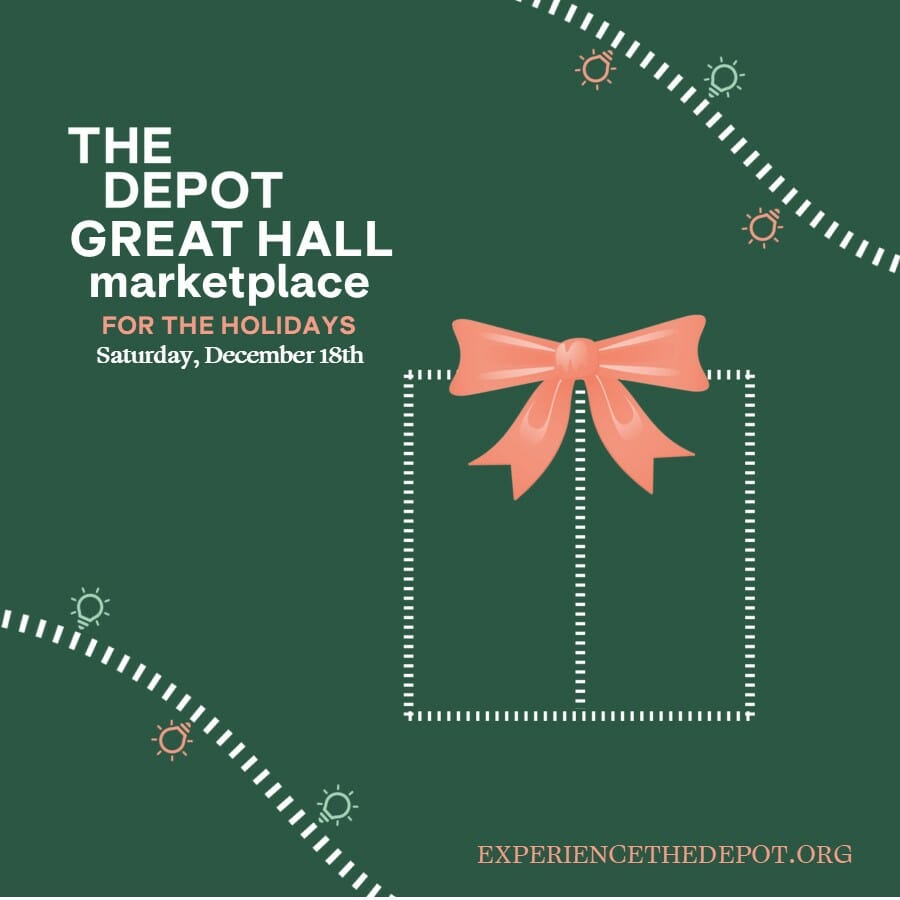 The Depot Great Hall Marketplace
Date: December 18th
Location: St. Louis County Depot
Time: 10am to 5pm
DAI Pop-Up Shop
Craig Bruce
Naomi Christenson
Holly Fearn
Anna Marie Friesen
Deb Hannu
Dale Lucas
Kris Nelson
Nina Preheim
Sharon Rogers
Lisa Stauffer
DAI Clay Studio/Lake Superior Ceramic Guild
Food Vendors
Haitian Heat
Jenny's Bakery
Lift Bridge Bagels
On 93rd and Grace
Lisa's Jamcrafting
Lots of Love Sweets
Mocha Moose
Muddy Trails
Spilled Sugar Sweets
Yes, Cheese
Artists & Makers
Art by SJ Nielsen
Claire Sahara Illustration
CrystalsMNCreations
Dixie Byrnes Designs
Du Designs
Ecocraft
Frozen Fire Pottery
Heart Berry
Jewelme
Joya by Hand
Juniper
Juniper Blue
Lapsi Babycrafts
Little Leaf Designs
Lov LLC/HejLov
LSRM Gift Shop
Macmanus Stoneworks
Maelise Makes
Marvelous Melissa
Mission Creek Design
Mistee Made
MN Nice Designs
Nature's Jewels by Carol
Noble Woodworking
Norshor Woodshop
Northern Home Candle
Northern Raven Studio
Patty Sampson
Riverside Soy Candles
Rock Island Design
SCHÖN Jewelry
SLC Historical Society
Shari Johnson Artworks
Sheila's Signs & Designs
Sorvik North
Stardust and Clay
Stone Dog Ridge
Stoneweaver
True North Rustic
Up North Fiber
Wonderfully Made
Wooly Wearables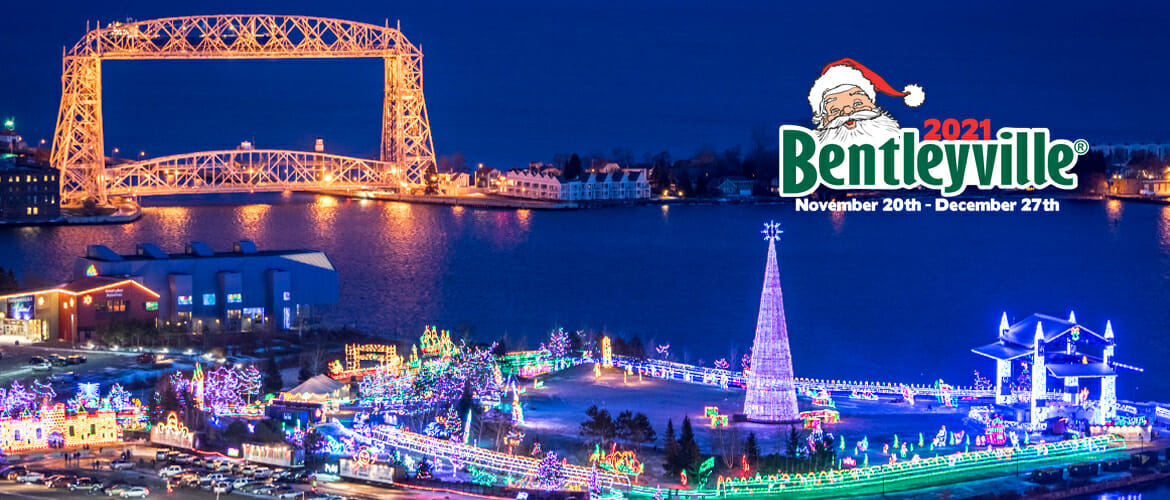 Bentleyville opens each night at 5 pm – including all Holidays! – Bentleyville will open Saturday, November 21st and continue through Saturday, December 26th. We will be open on Thanksgiving, Christmas Eve, and Christmas.
November 20th – December 27th, 2021
Sunday – Thursday 5 pm – 9 pm
Friday & Saturday 5 pm – 10 pm
Bentleyville is FREE – Bentleyville has free admission for all guests, as well as free hot cocoa & coffee, free cookies, free freshly popped popcorn, free marshmallows to roast, and free visits with Santa & Mrs. Claus! $10 per vehicle to park in the Bentleyville lots.
Want to know the best time to go? Check out their Crowd-O-Meter!
Downtown Duluth's Greater Downtown Council is once again offering a FREE shuttle service on Fridays and Saturdays to Bentleyville from Downtown and Canal Park!
The Canal Park Jingle Bus stop is at Buchanan Street near Canal Park Drive, while the Downtown Jingle Bus travels along Superior Street with stops at Greysolon Plaza, Holiday Center, and the Radisson Hotel.  Jingle Buses will have color-coded banners for each route and stops will be marked.  The service will be provided every Friday and Saturday night through December 18th. Buses run approximately every 10-20 minutes, starting at 5:00pm.

To Bentleyville from Buchanan Street
To Buchanan Street from Bentleyville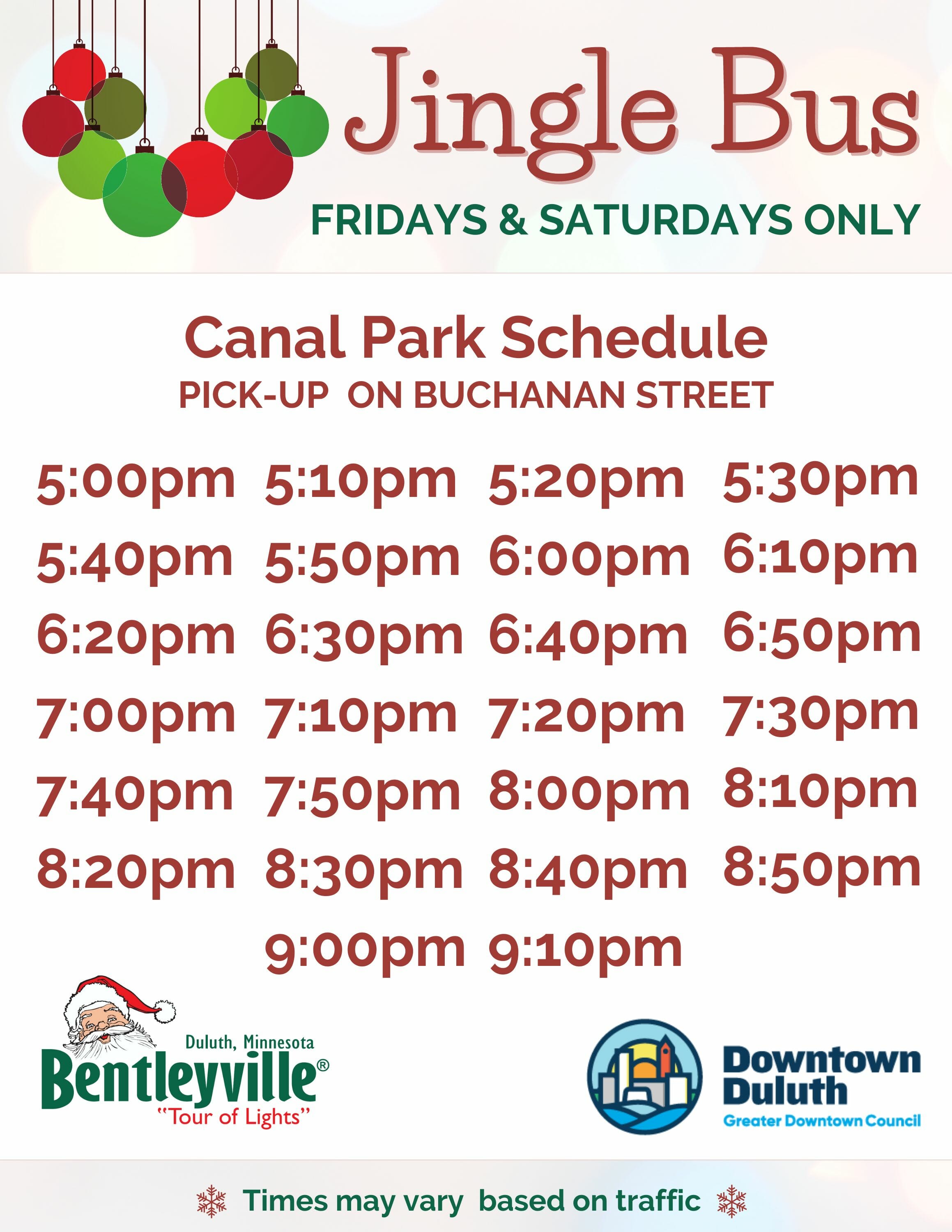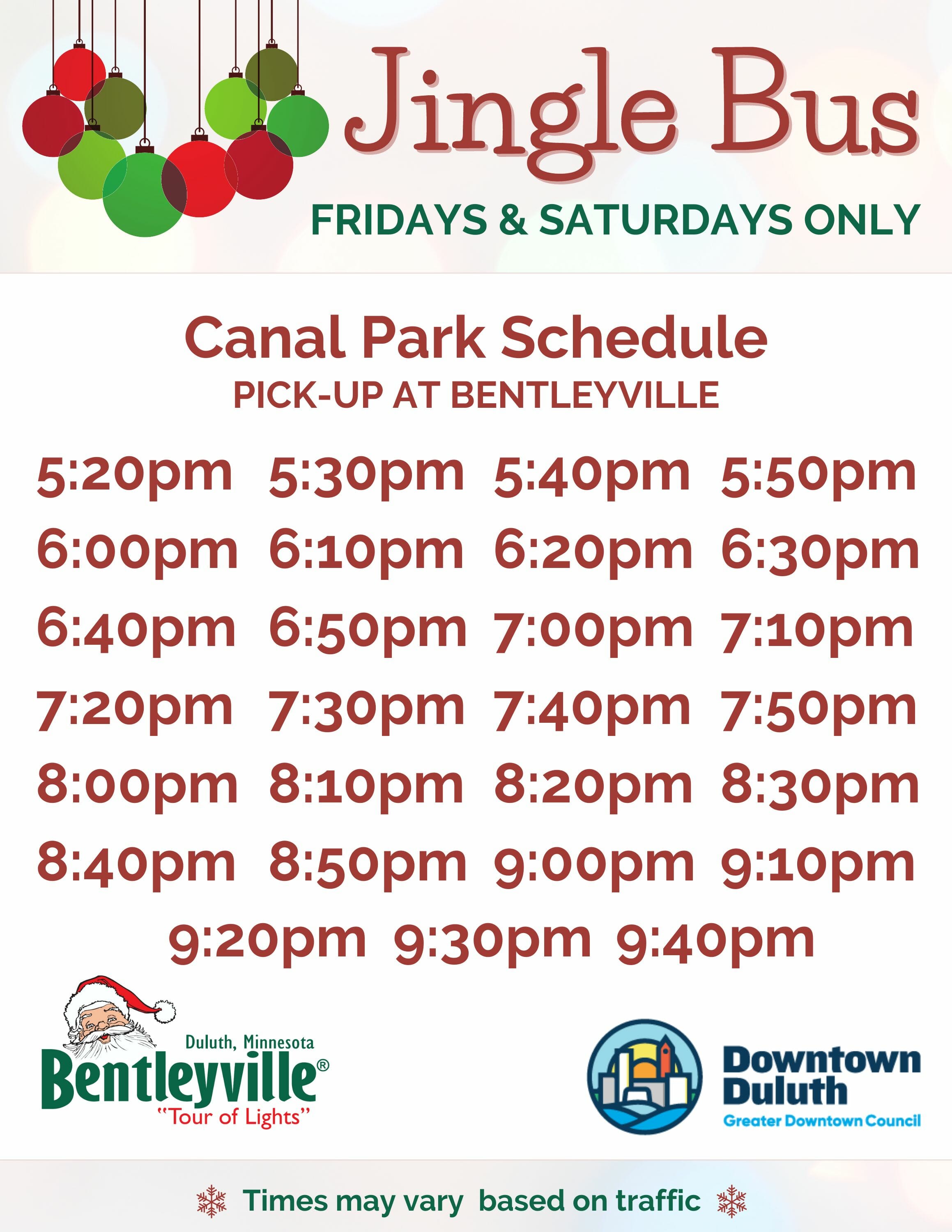 To Bentleyville from Greysolon
To Bentleyville from Holiday Center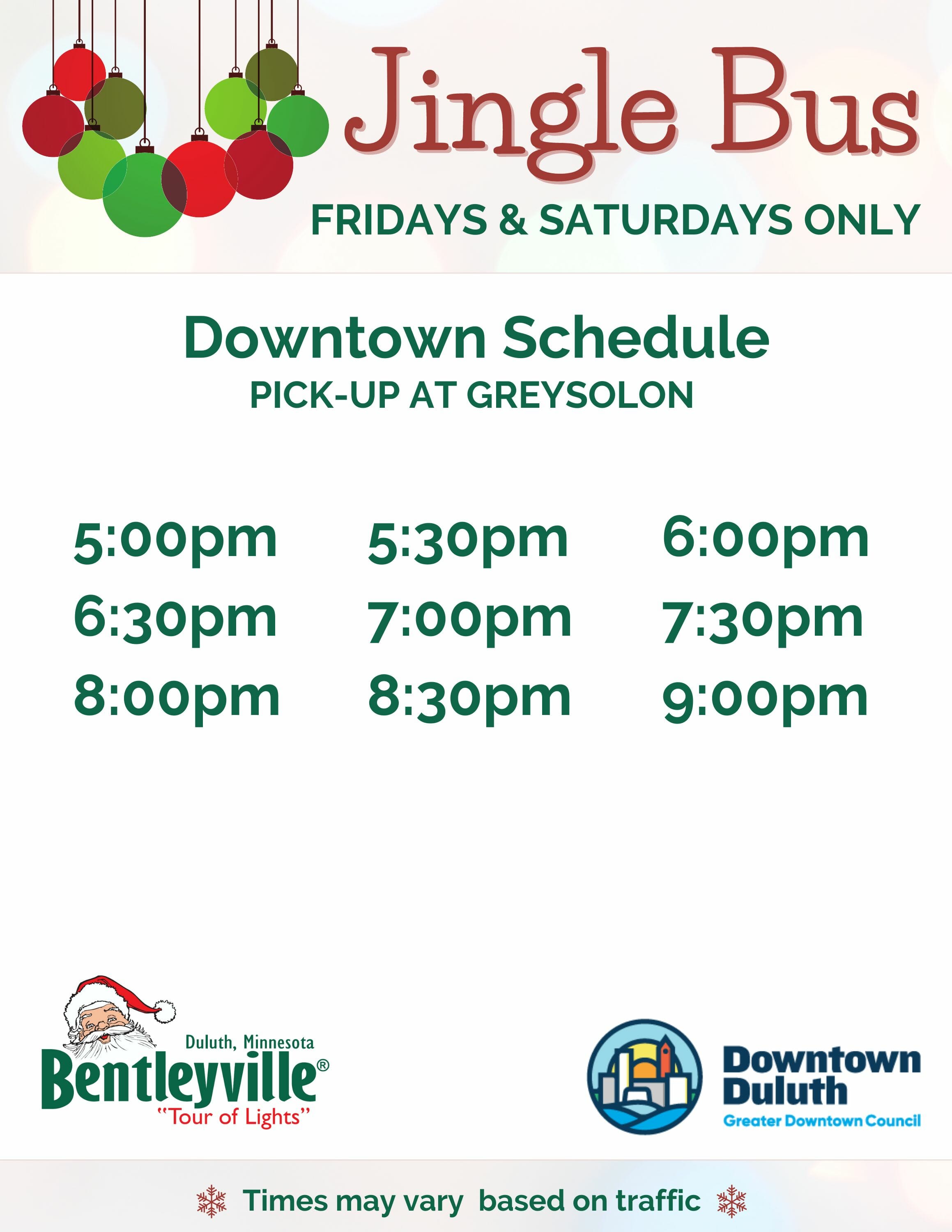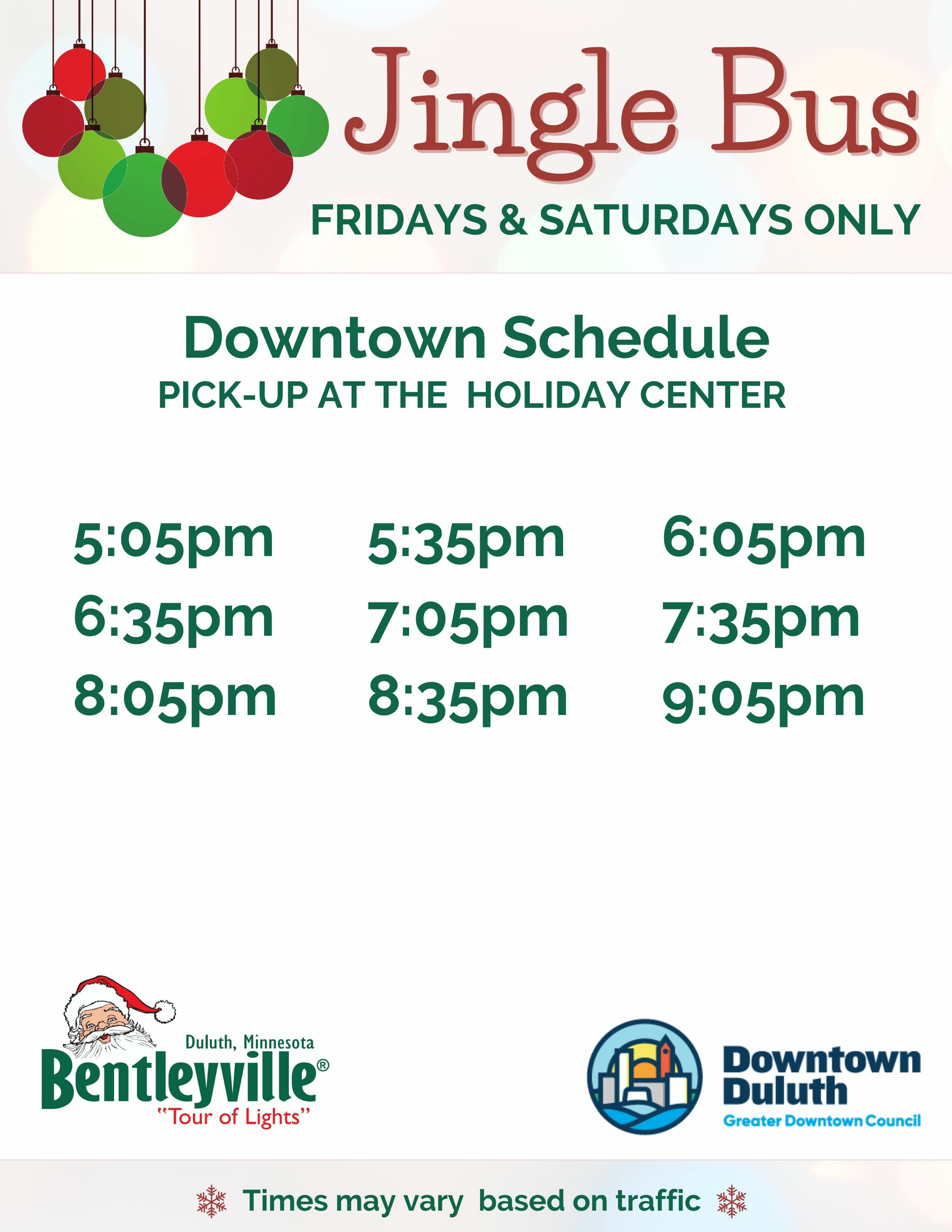 To Bentleyville from Radisson
To Downtown from Bentleyville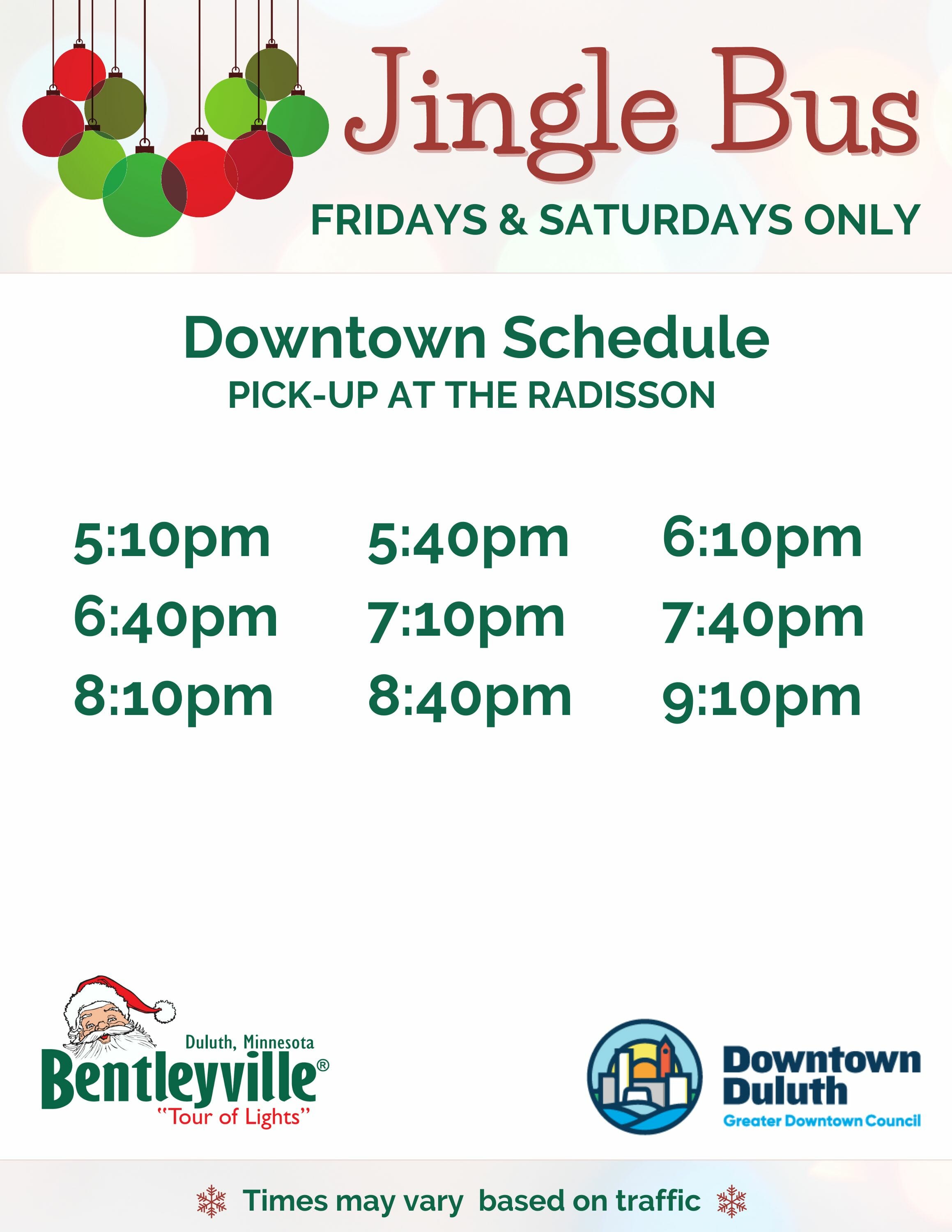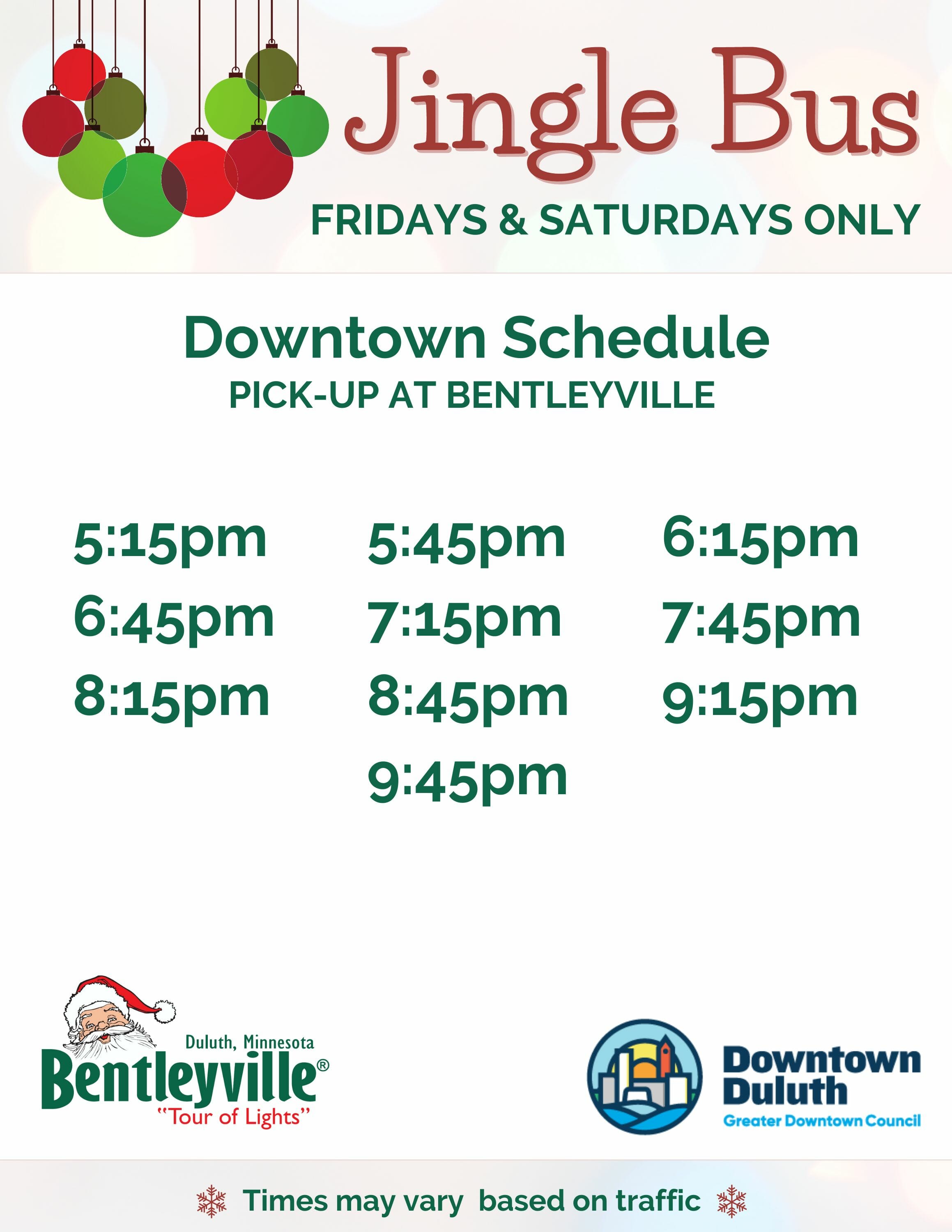 Holiday Window & Lighting Contest
Vote for your favorite Holiday Windows to enter for a chance to win some amazing local prizes! The contest runs from November 19th to December 10th. Winners will be announced at the December 14th Downtown Perk with Mayor Emily Larson.
Ballots available at participating locations: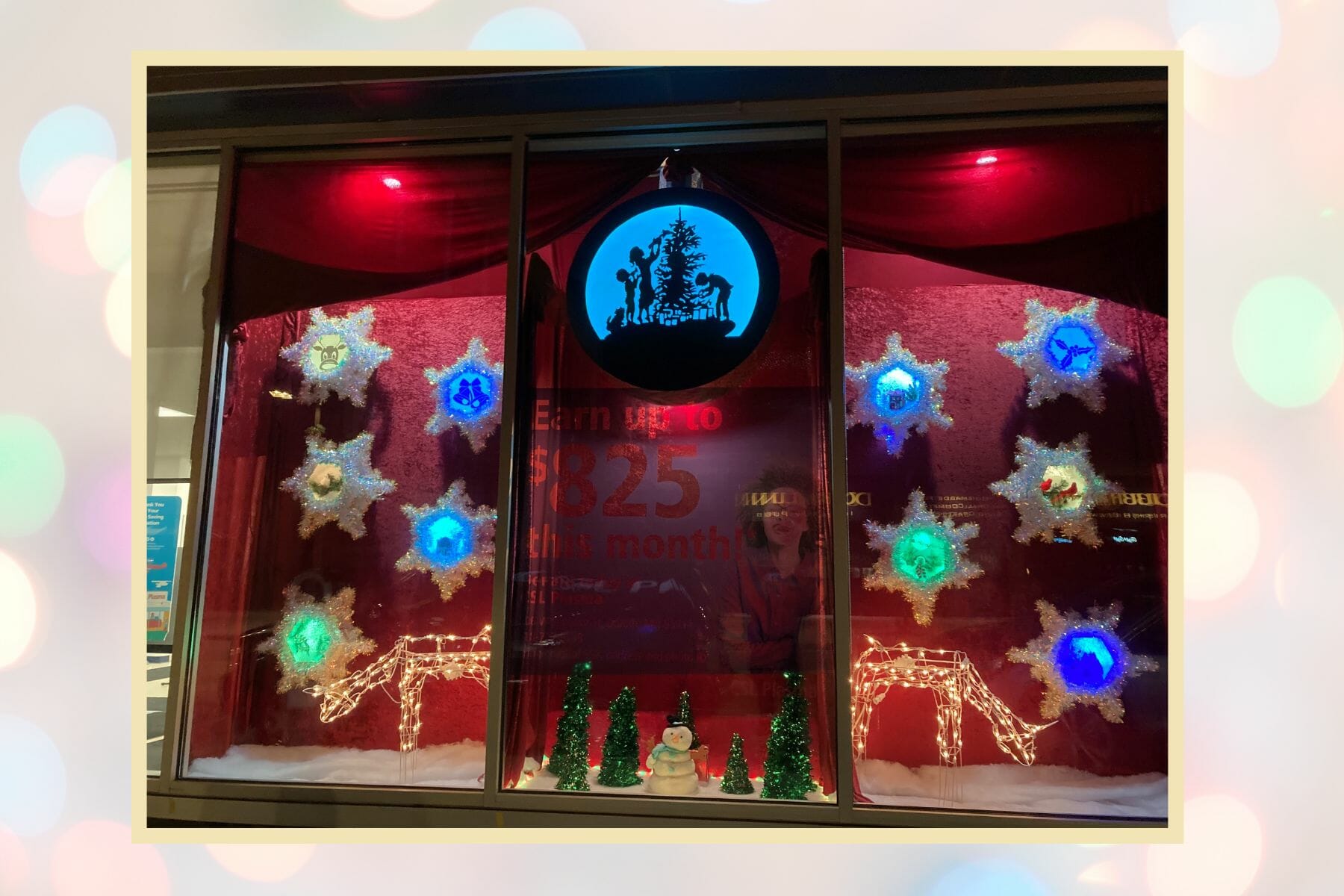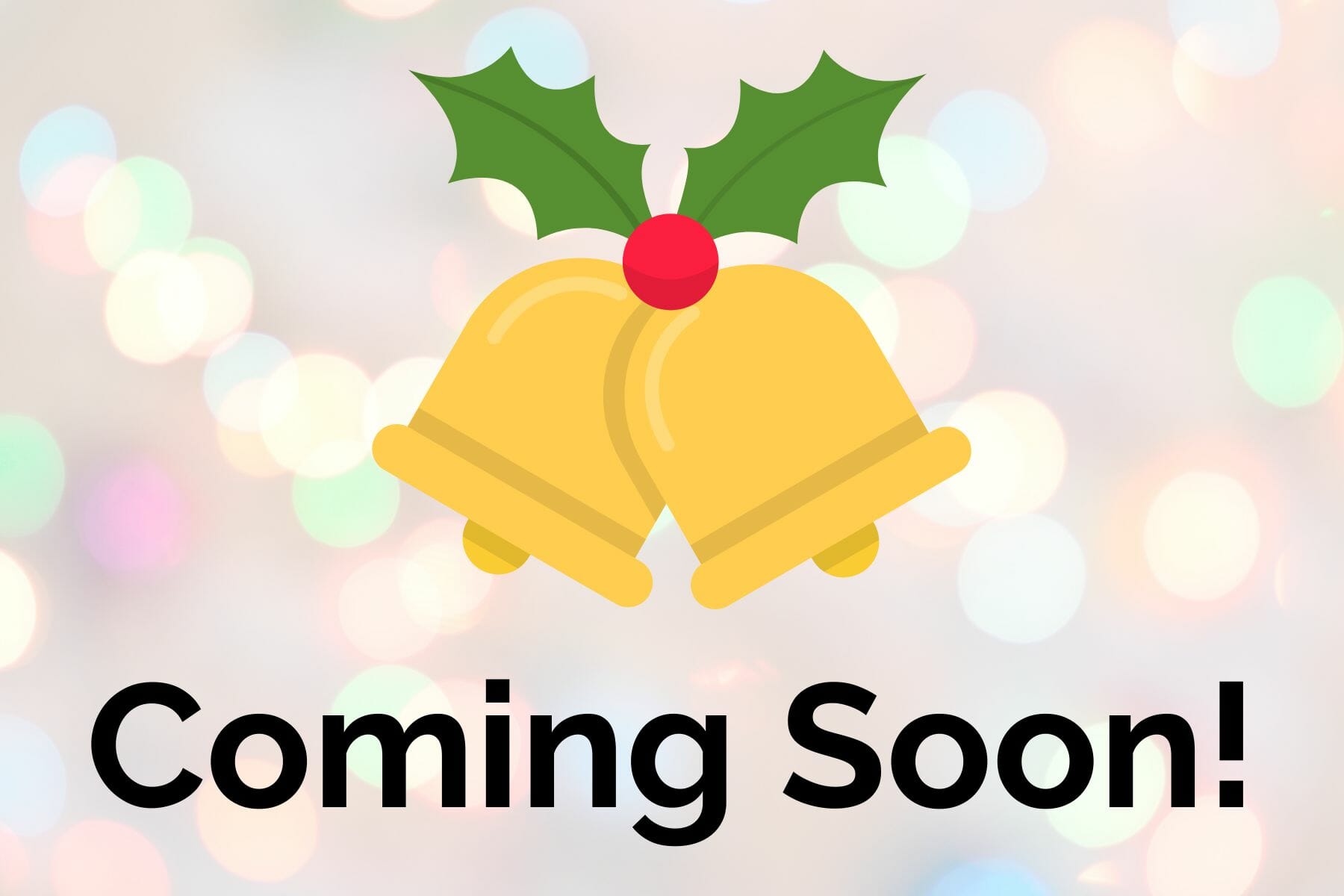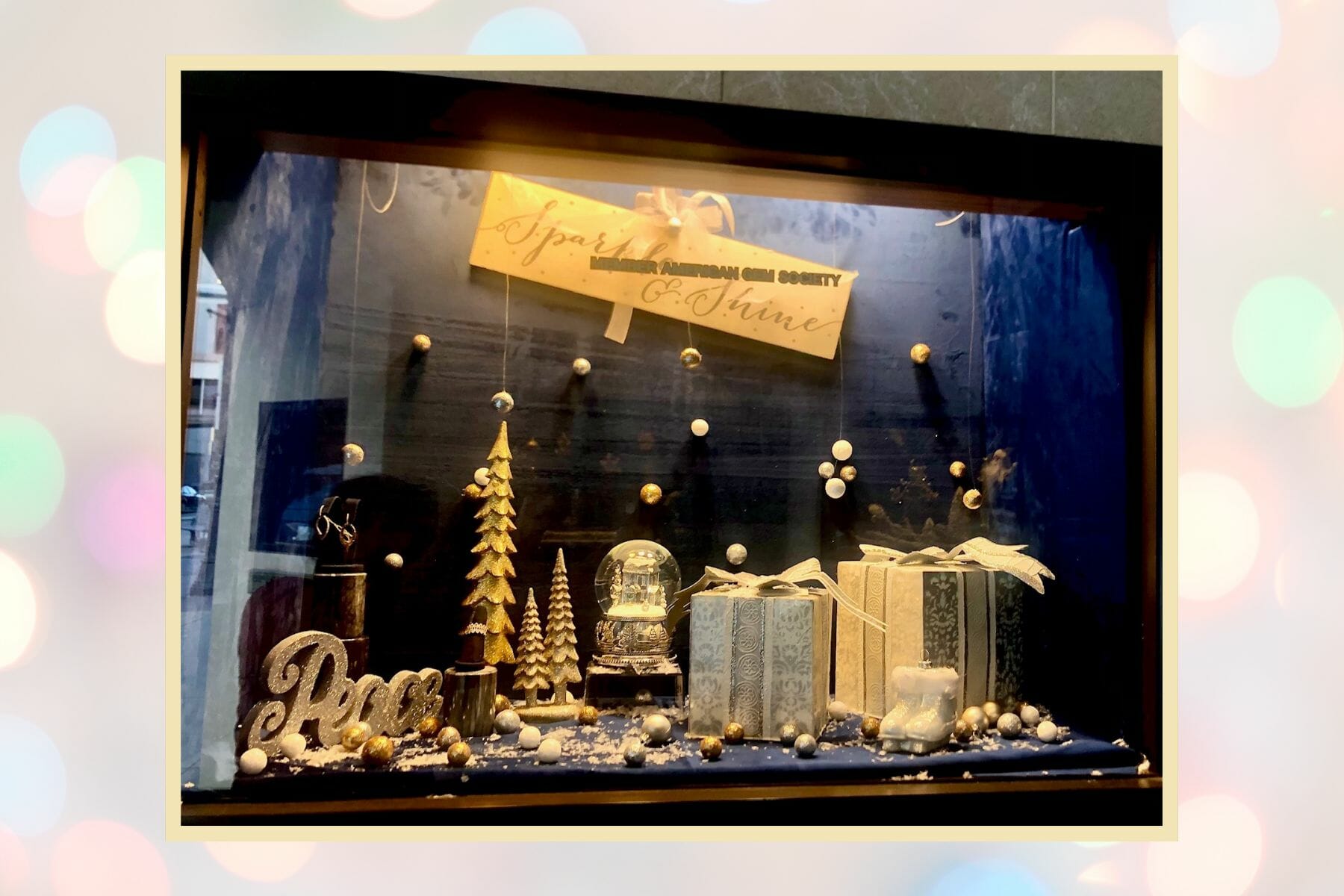 CSL Plasma
106 West Superior Street

Townsquare Media
207 West Superior Street


Frame Corner
323 West Superior Street
Security Jewelers
307 West Superior Street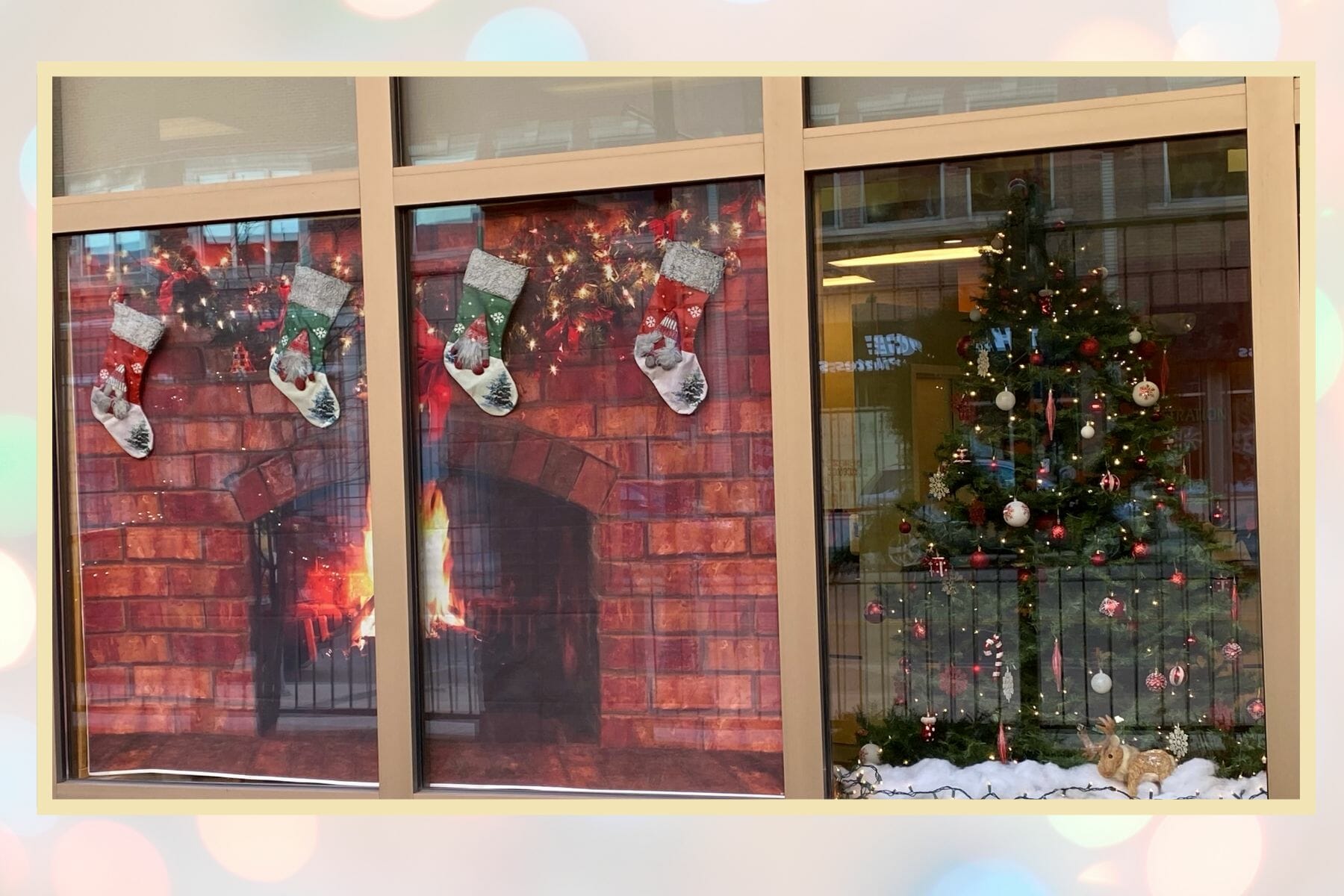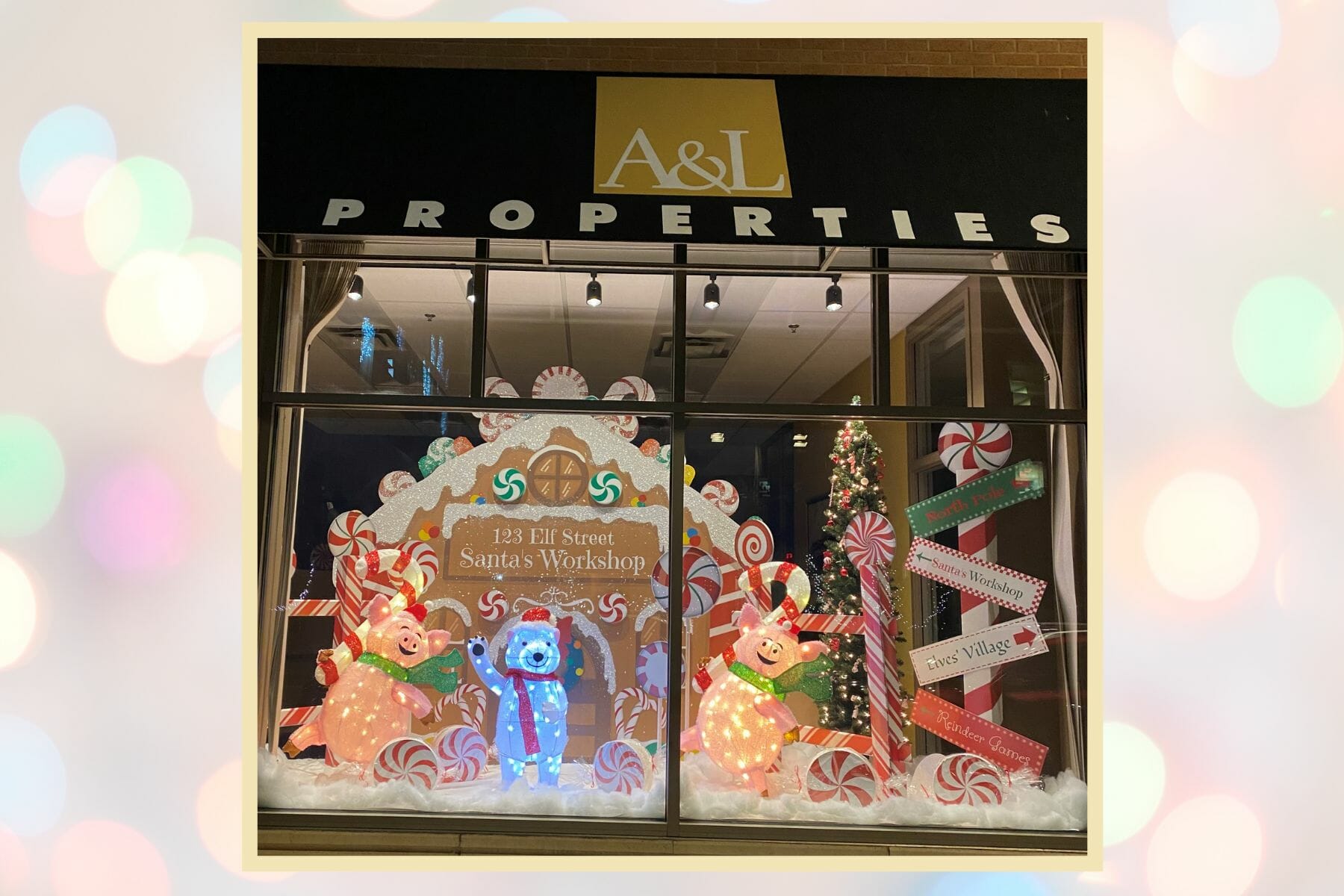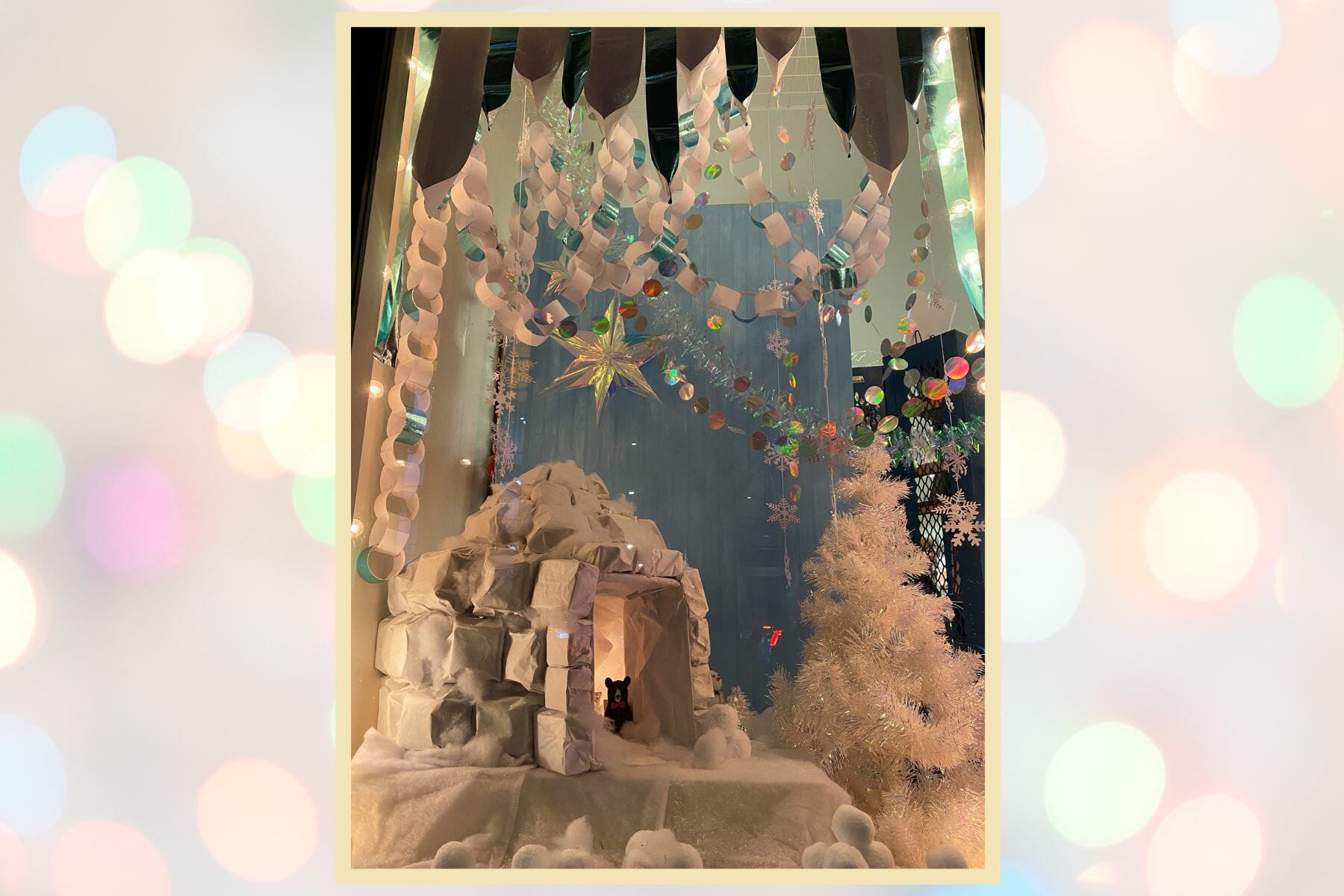 PS Rudie
26 East Superior Street
A&L Properties
11 East Superior Street

Duluth Candy Co.
103 East Superior Street

Hucklebeary
106 East Superior Street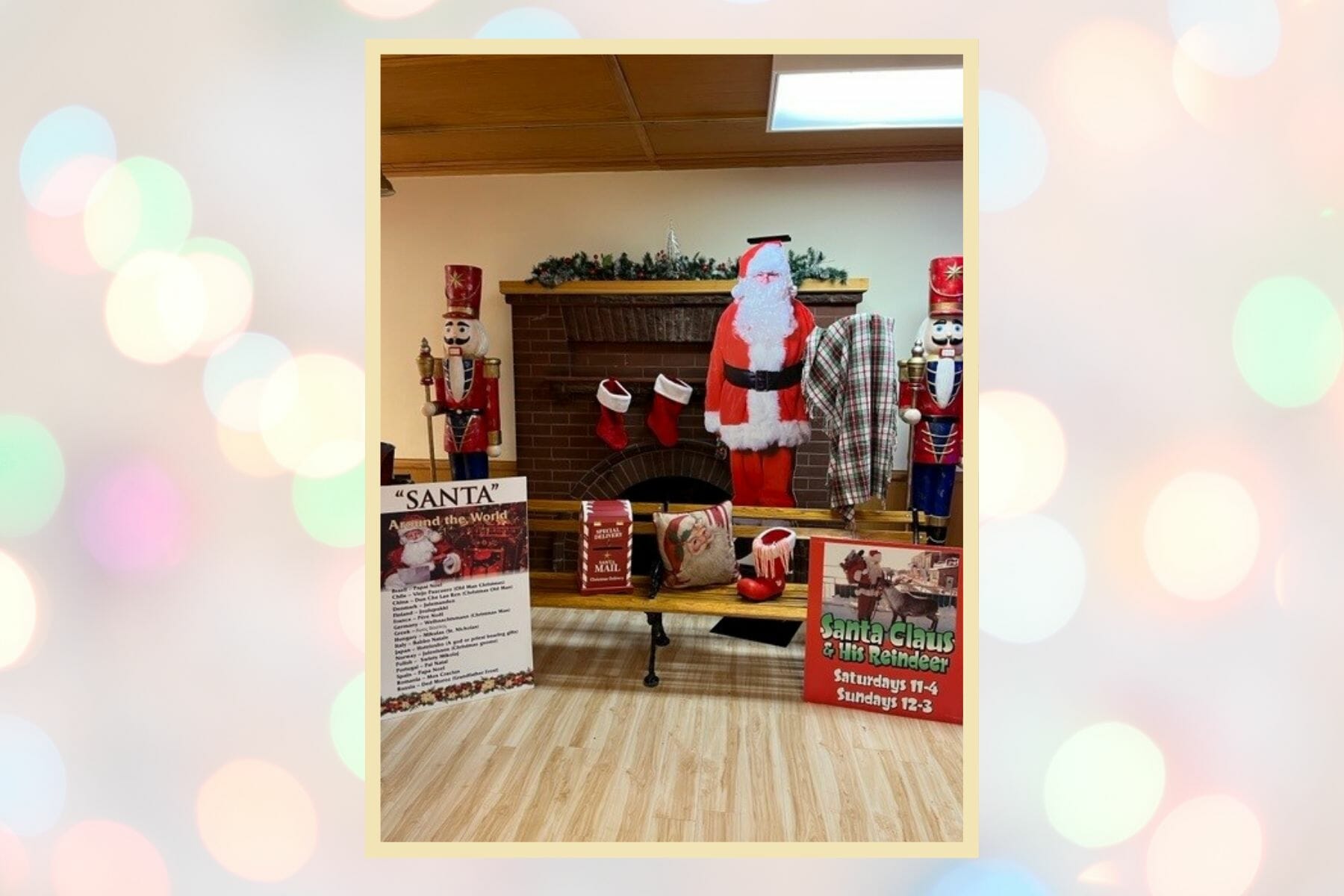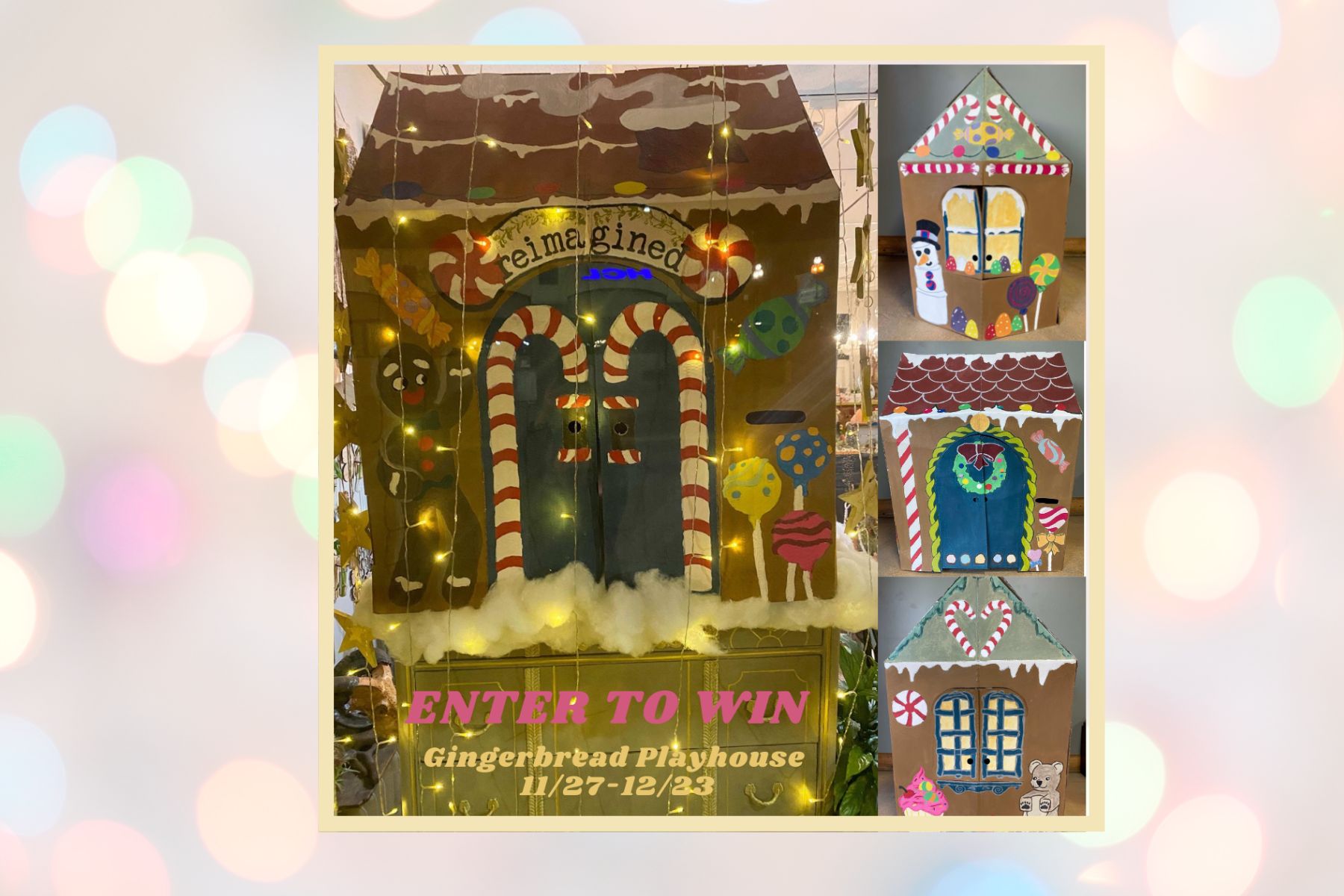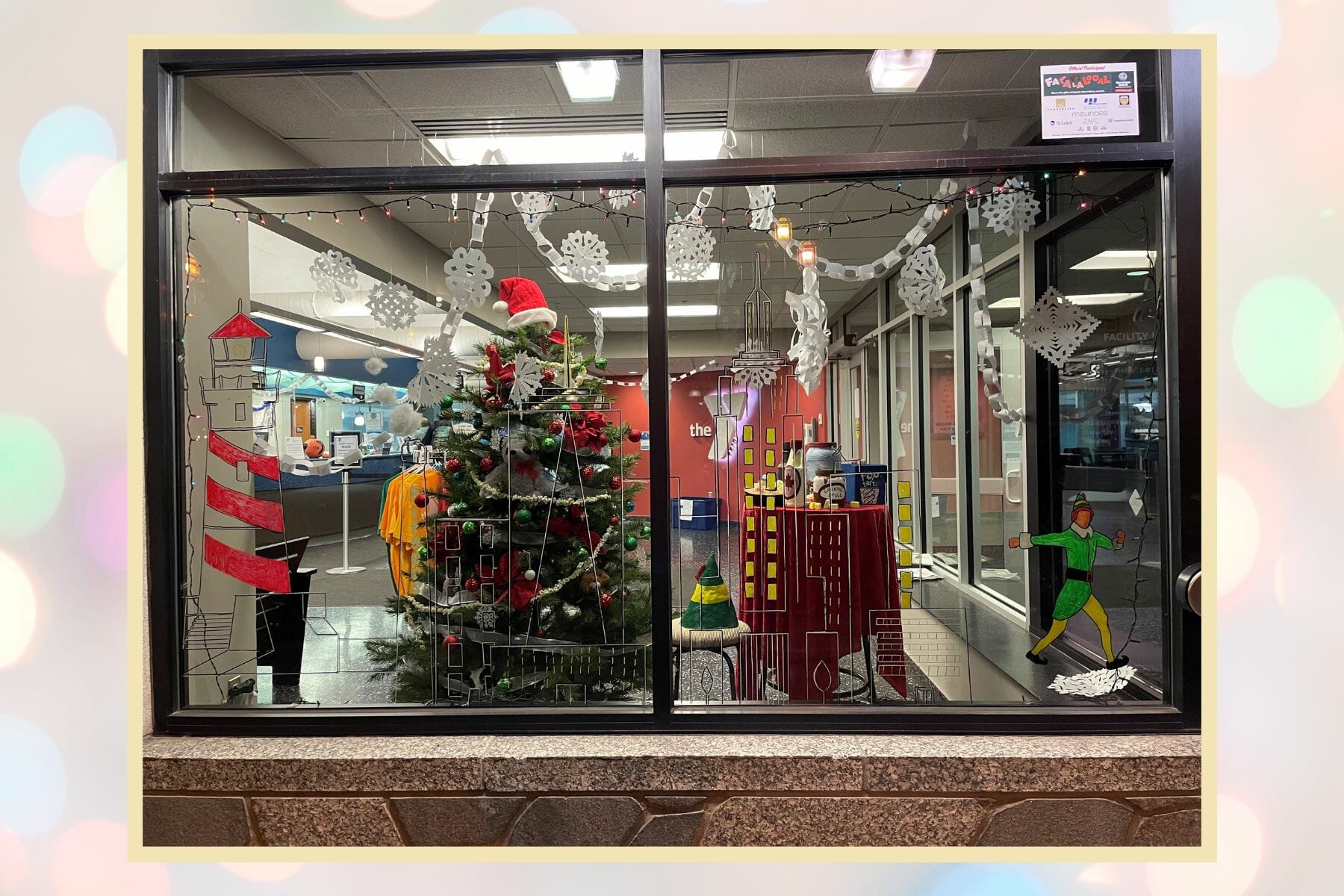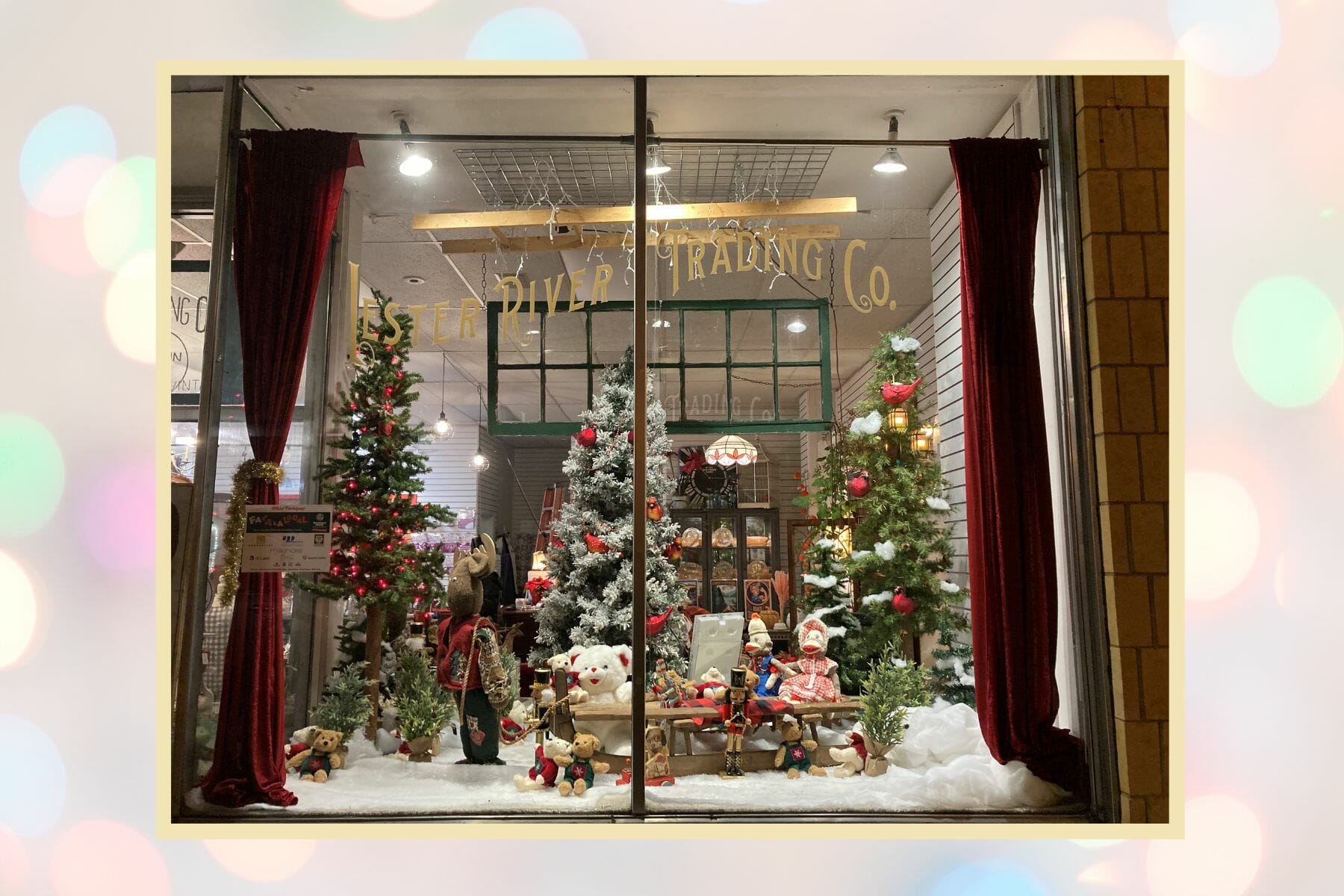 Fitger's
600 East Superior Street

Reimagined by T. Underwood
138 West 1st Street

Downtown YMCA
302 West 1st Street

Lester River Trading Company
28 North 3rd Ave West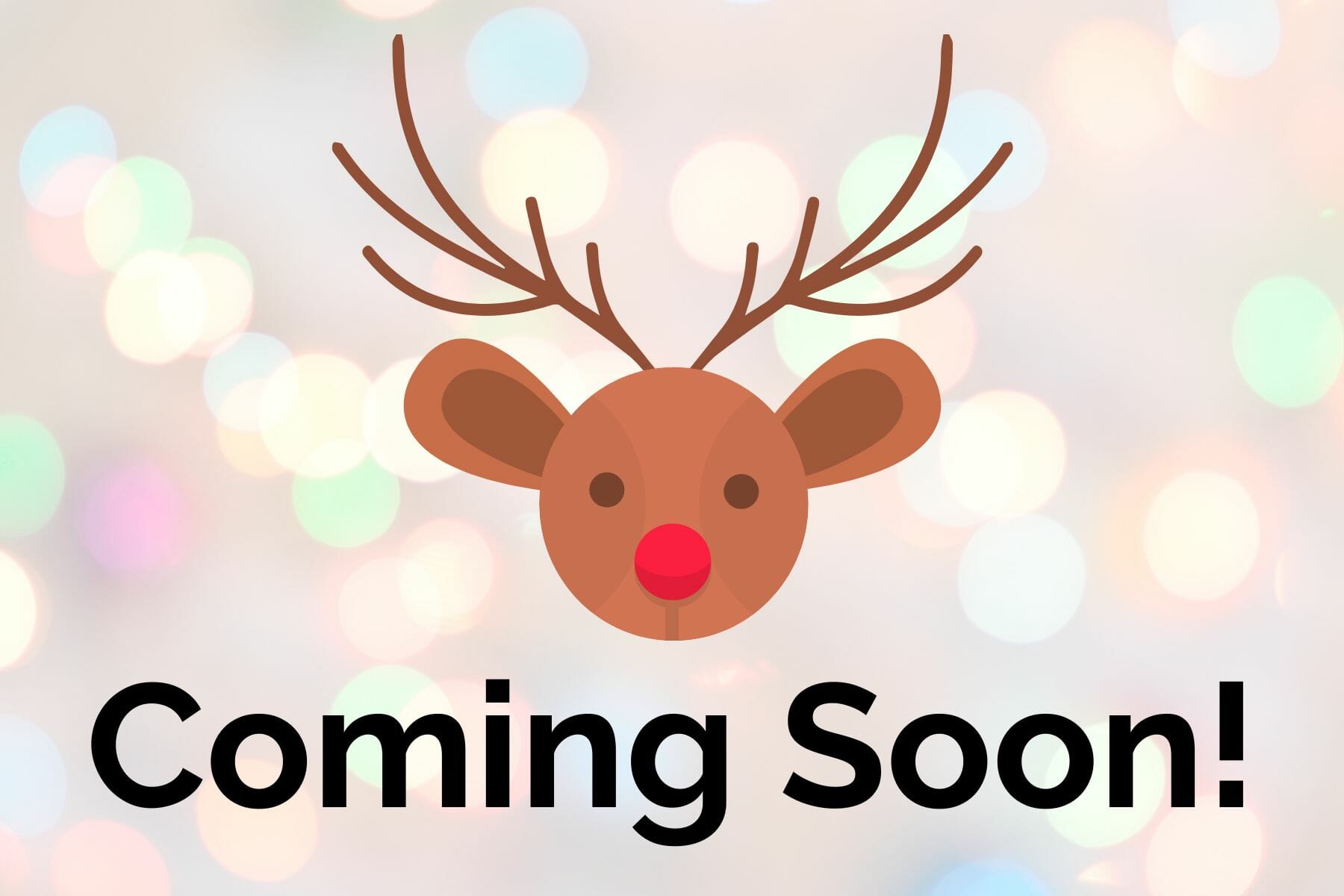 AICHO/Indigenous First Arts & Gifts Shop
202 West 2nd Street
St. Louis County Depot


506 West Michigan Street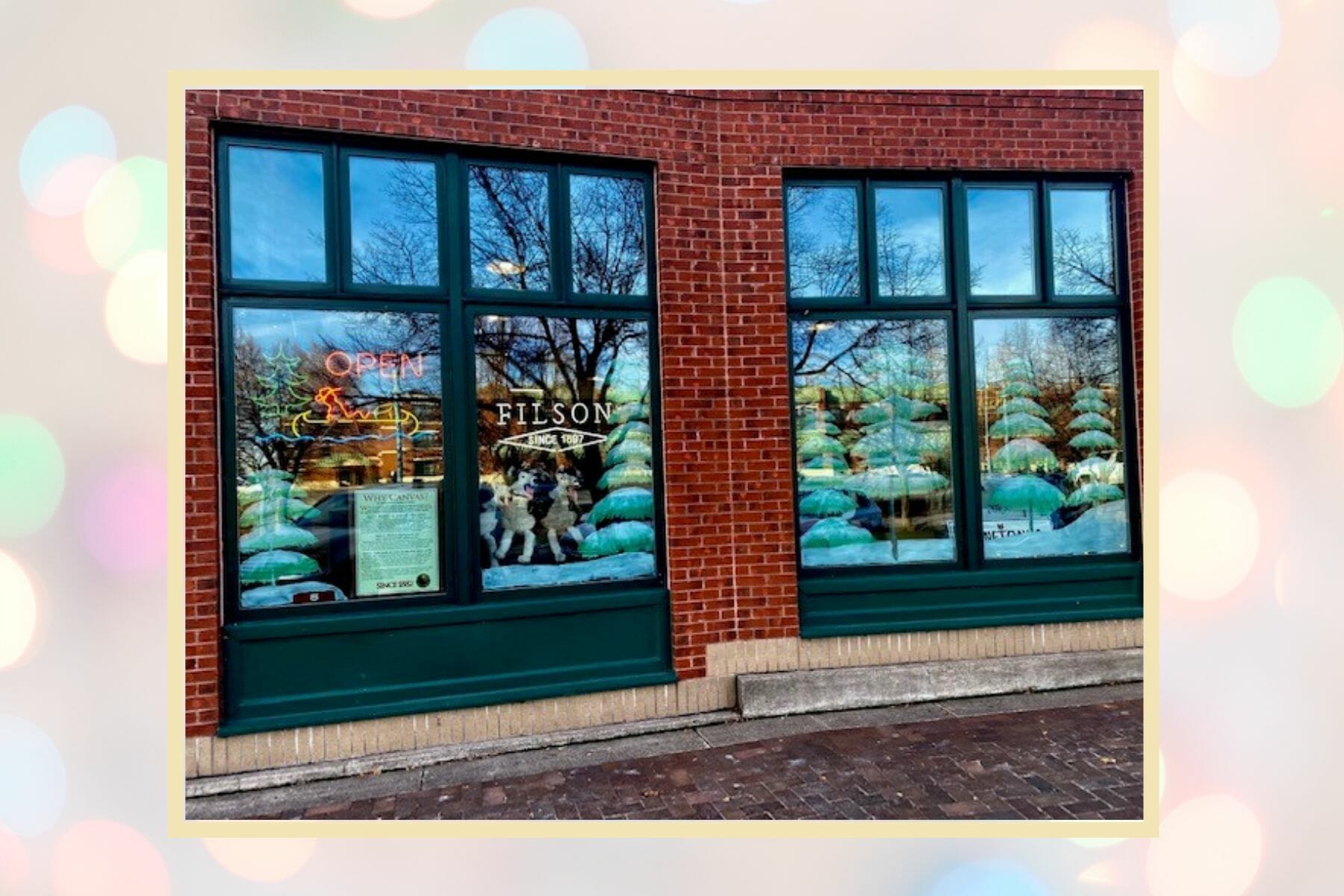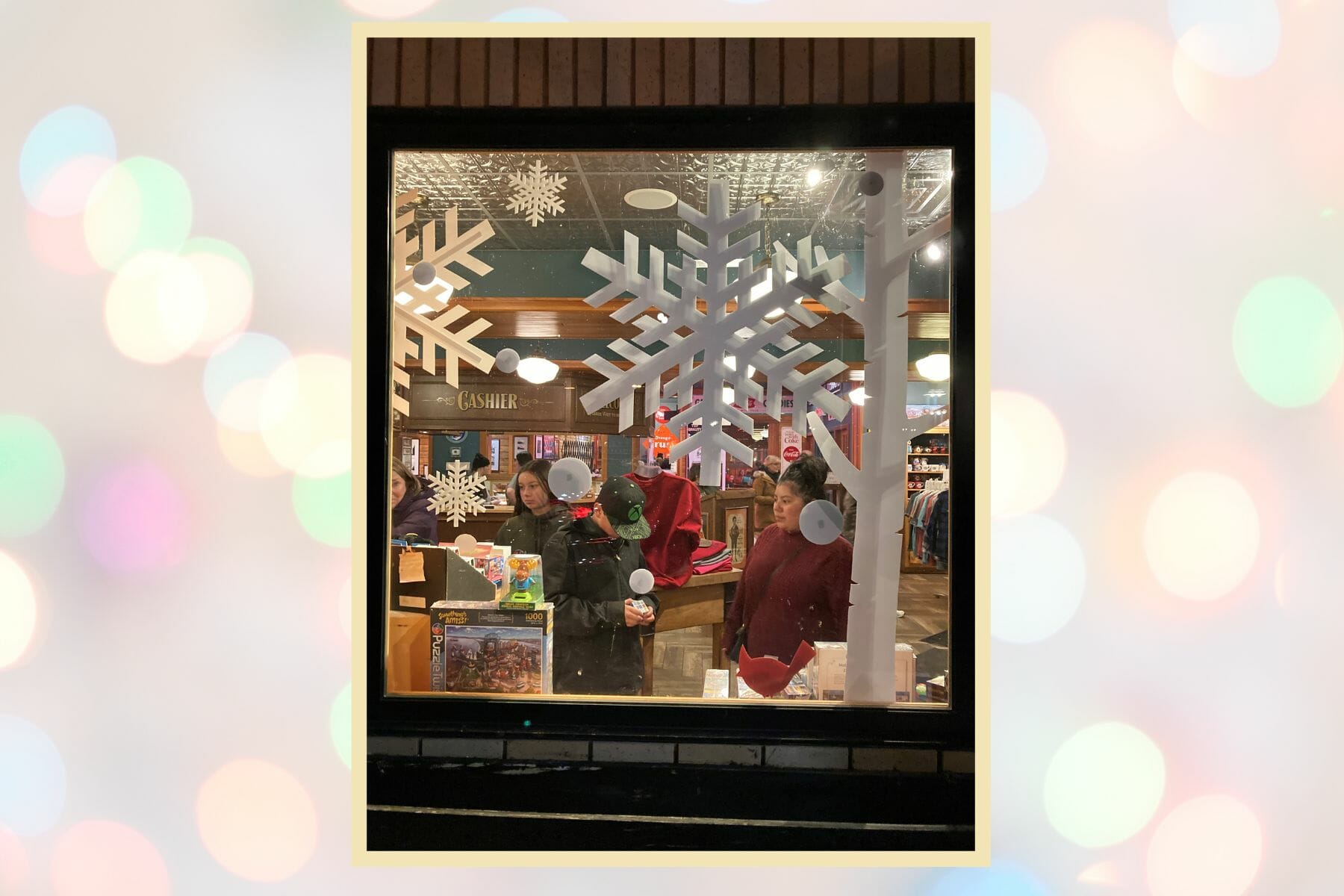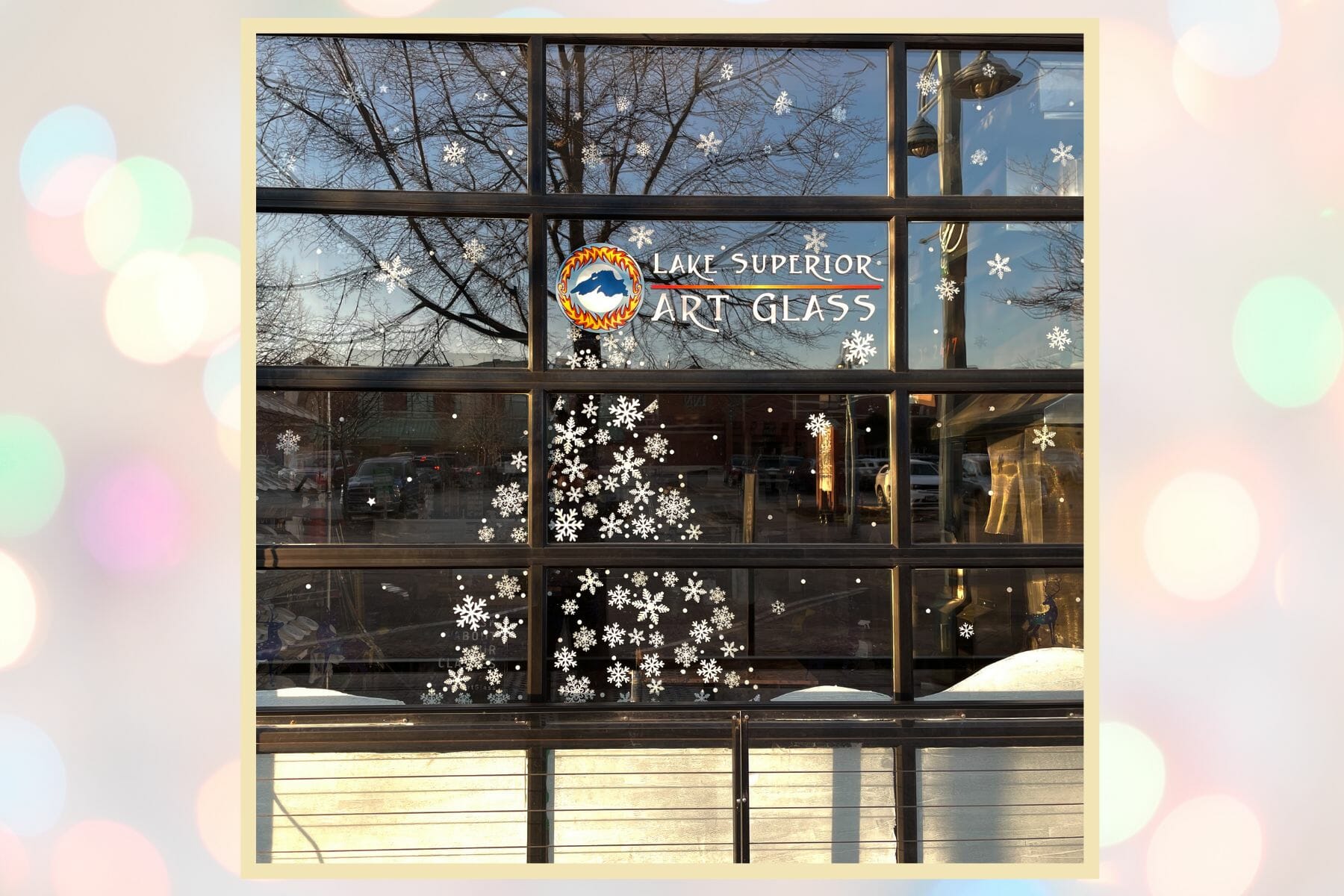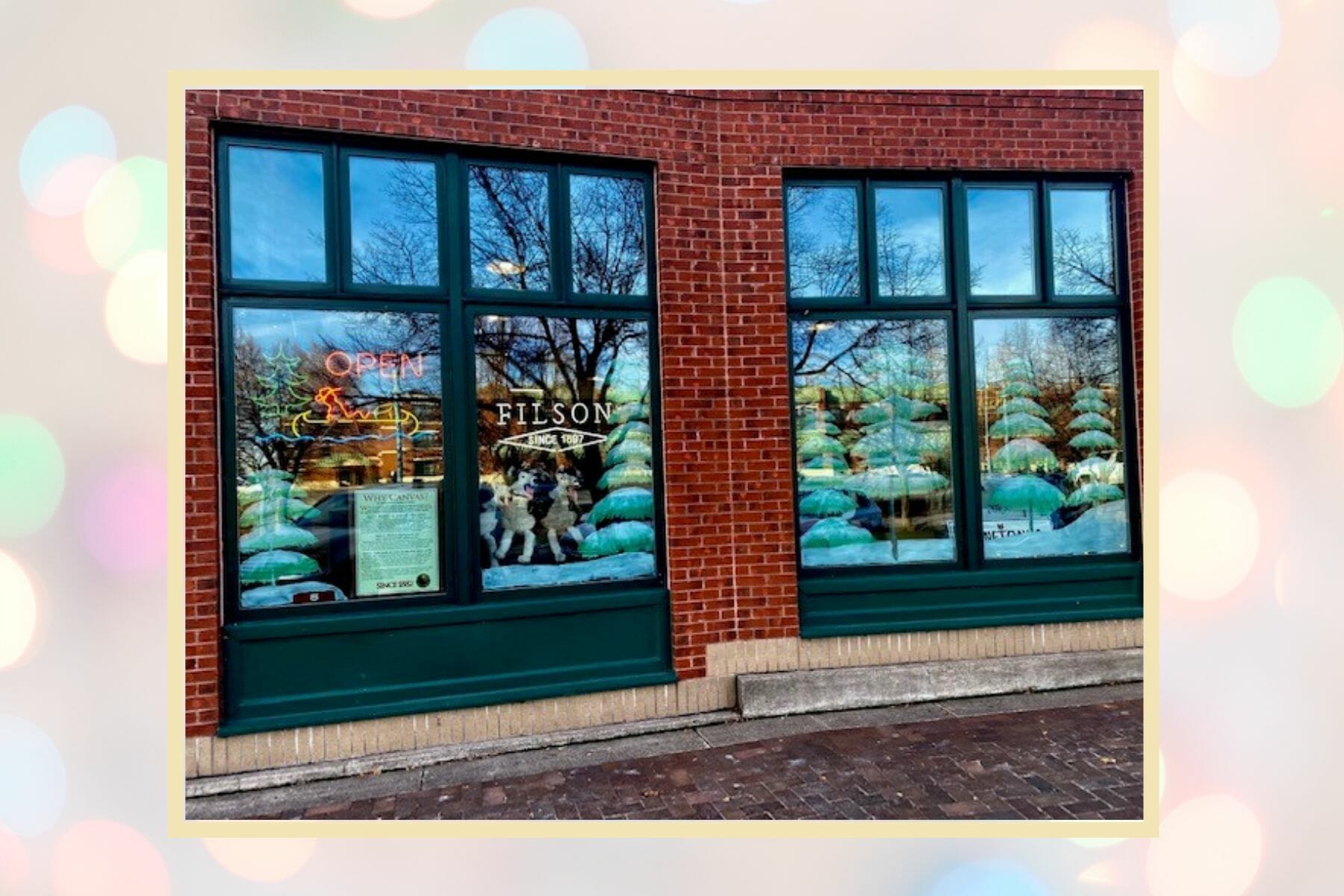 Duluth Pack
365 Canal Park Drive

Grandma's Saloon & Grill
522 South Lake Avenue

Lake Superior Art Glass
357 Canal Park Drive

Siiviis
361 Canal Park Drive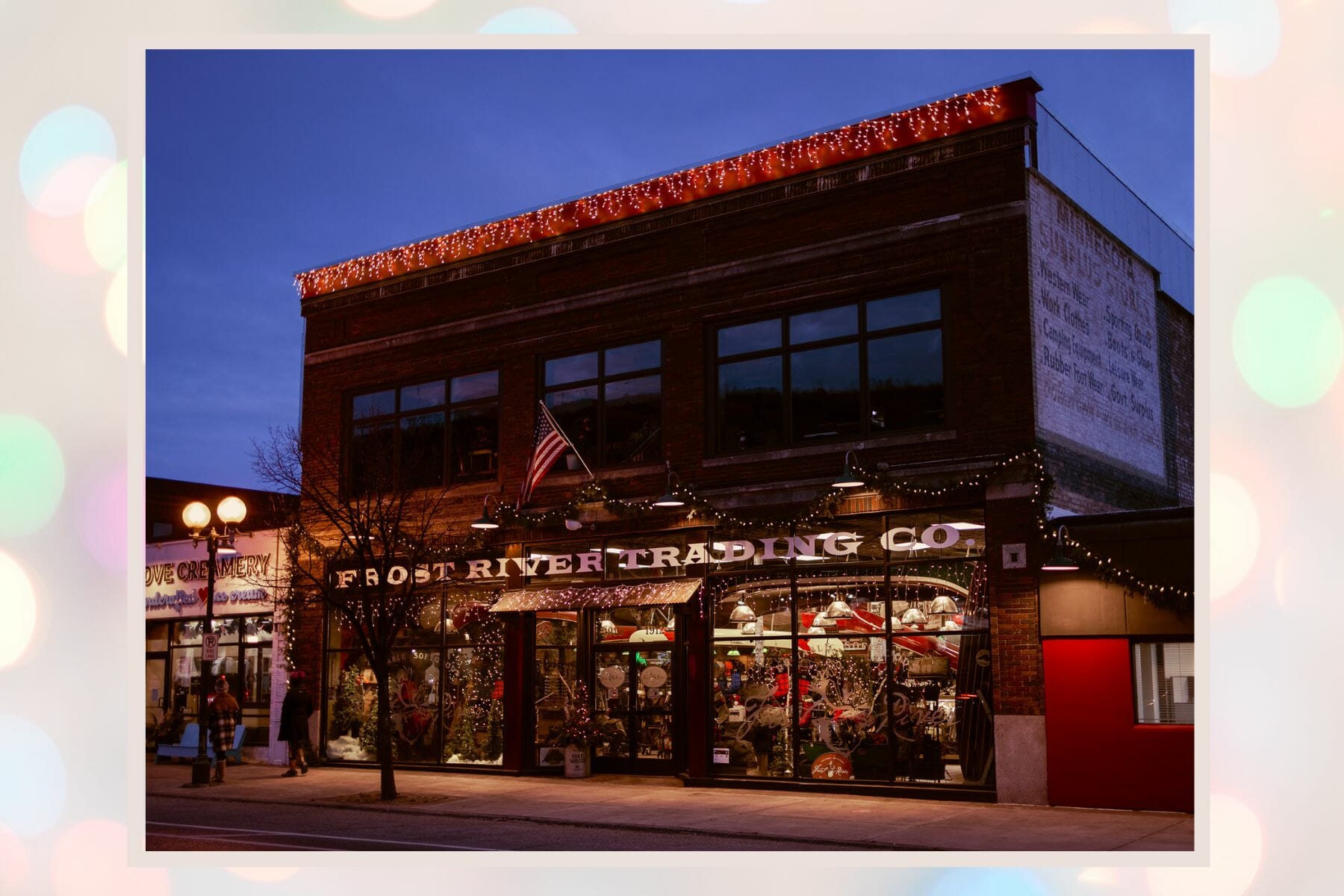 Frost River Trading Co.
1910 West Superior Street

Chrismas City of the North Parade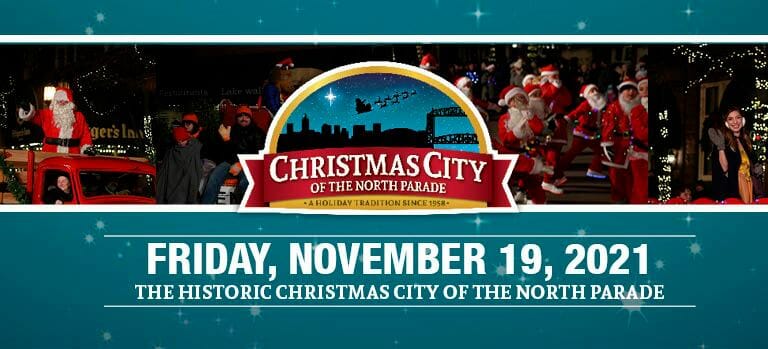 The 2021 Holiday Season kicks off with The 63rd annual Christmas City of the North Parade!
Join us on November 19th as the Northland holiday tradition marches down Superior Street once again! The route starts near the Fitger's complex and extends through Downtown Duluth.
Spectators are welcome to line the street and watch the excitement once again!
This year the parade will be dedicated to the essential workers in our community who have stepped up and made a difference during the pandemic.
If you can't watch it in person, the parade will also be broadcast live on KBJR 6 and KBJR6.com starting at 6:30om hosted by Dan Wolfe and Bonney Bowman!
Esquire Magazine

 listed Duluth as #3 on their 27 Best Christmas Towns to Put on Your Holiday Bucket List! With notable attractions like

Bentleyville USA

and

Duluth Winter Village

, we couldn't agree more that this is what Christmas magic looks like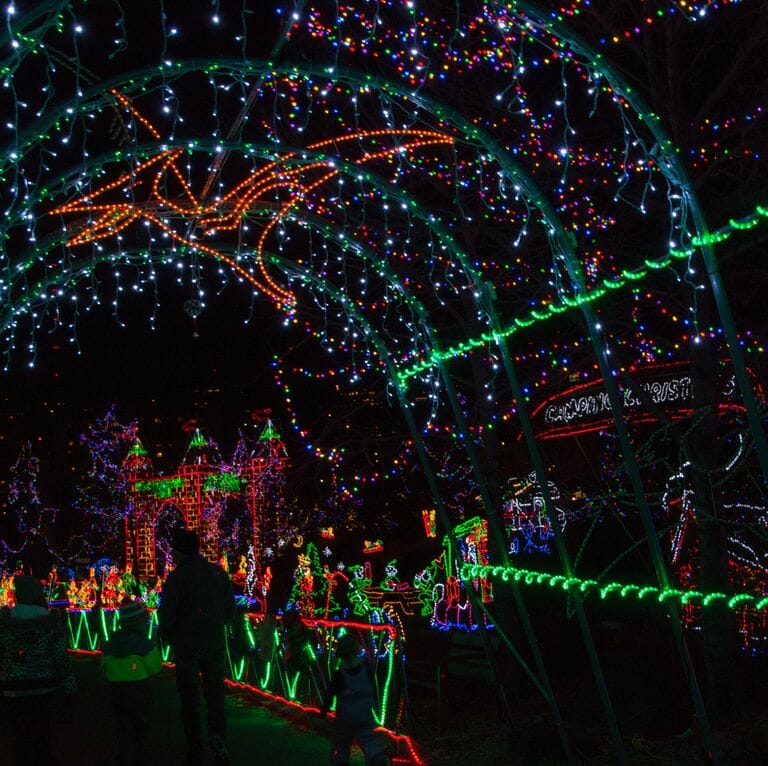 "Thousands flock to Duluth during the holidays to witness Bentleyville, a massive light display. The event is free to the public and runs through November and December. There's also a scenic train journey along Lake Superior, as well as a bustling Christmas village set up in front of the historic Glensheen mansion."