Celebrate the Holidays Downtown! Don't miss out on the local shops, Holiday Pop-Up Markets, The Christmas City of the North Parade, Bentleyville, Holiday Lights Contest, and more!
Makers Market Holiday Art Sale
Location: Zeitgeist Duluth
Date: Saturday, December 3rd
Time: 3:00pm to 7:00pm
Get gifts, grab a bite to eat, a drink to sip, and see a film, all under one roof!
Support local artists and check holiday shopping off your list on December 3rd from 3-7pm at Zeitgeist.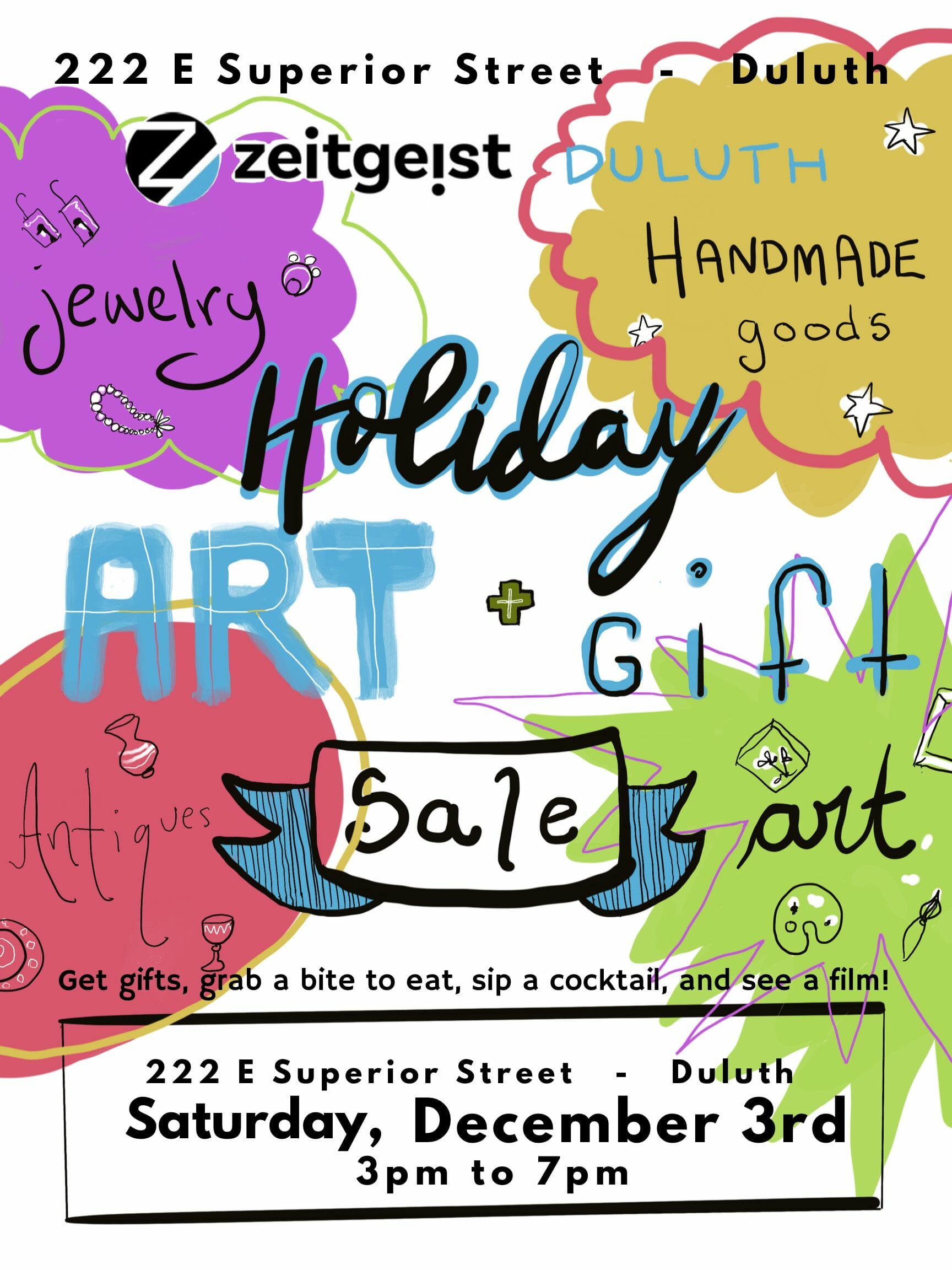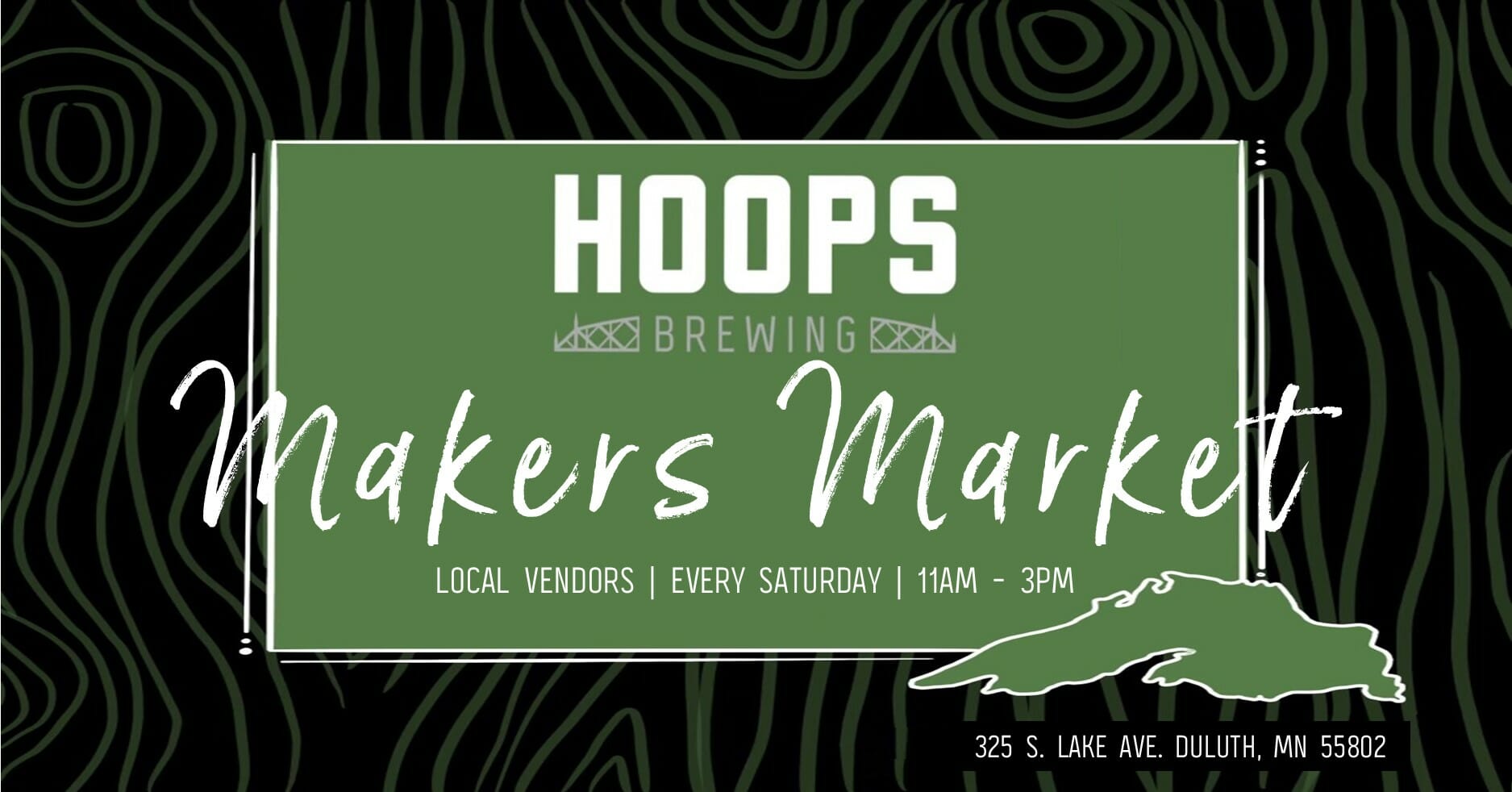 Shop local artists this holiday season all in on spot! Our Makers Market is back this year - every Saturday from Small Business Saturday to Christmas Eve, local artists will be set up in the West Beer Hall. This one-stop shop means every person on your list gets a unique, hand-crafted gift this year.
Makers Market
Location: Hoops Brewing 
Date: Every Saturday
November 26th - December 17th
Time: 11:00am to 3:00pm
Great Hall Marketplace
Location: St. Louis County Depot
Date: Saturday, December 17th
Time: 10:00am to 5:00pm
With over fifty local vendors, artisans and makers gathered at The Depot, you'll find last-minute gifts for everyone.
It is free and open to all.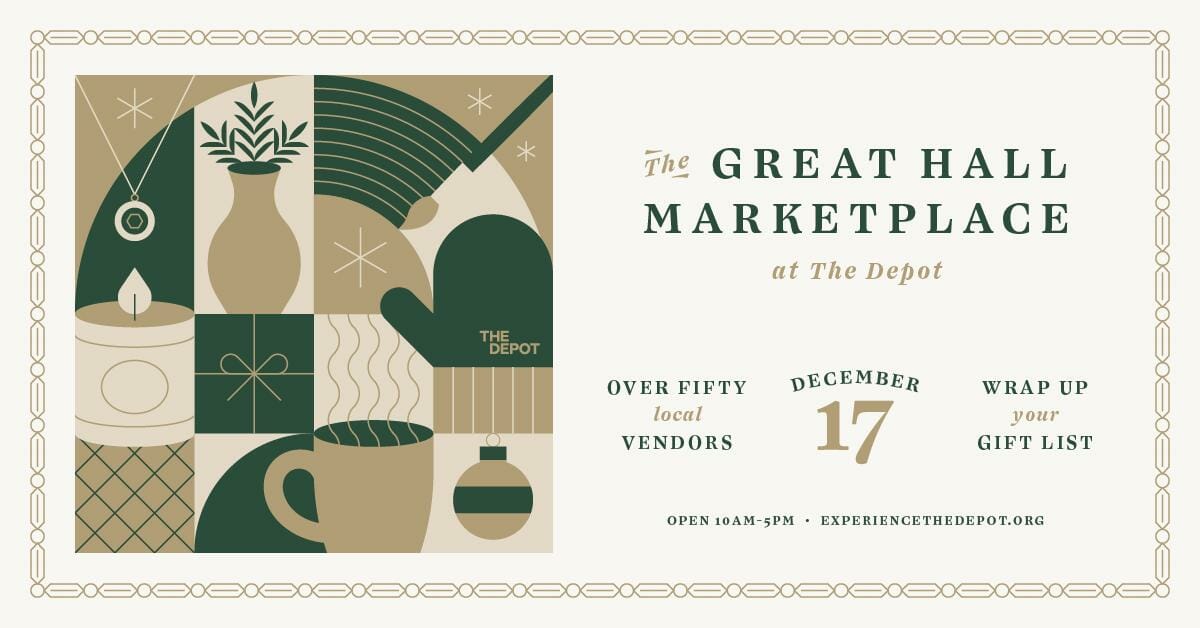 Duluth Winter Village 2022
Location: DECC
Date: Saturday, December 3rd & Sunday, December 4th
Time: 10:00am to 5:00pm
The Duluth Winter Village returns this year outside along the lake at the Duluth Entertainment Convention Center's Harbor Drive!
The outdoor winter market is designed around small businesses, our scenic city, and the holiday season. Born from the idea of making it fun, festive, and easy to support our local businesses during the holidays.
The Duluth Winter Village is a two-day festival where 40+ local small businesses sell their unique, curated goods out of custom-built wooden cabins. In addition to shopping, visitors will enjoy food and beverages from local restaurants in a heated dining space, campfires by the lake, live animals, carolers, free skating inside at the DECC, and more.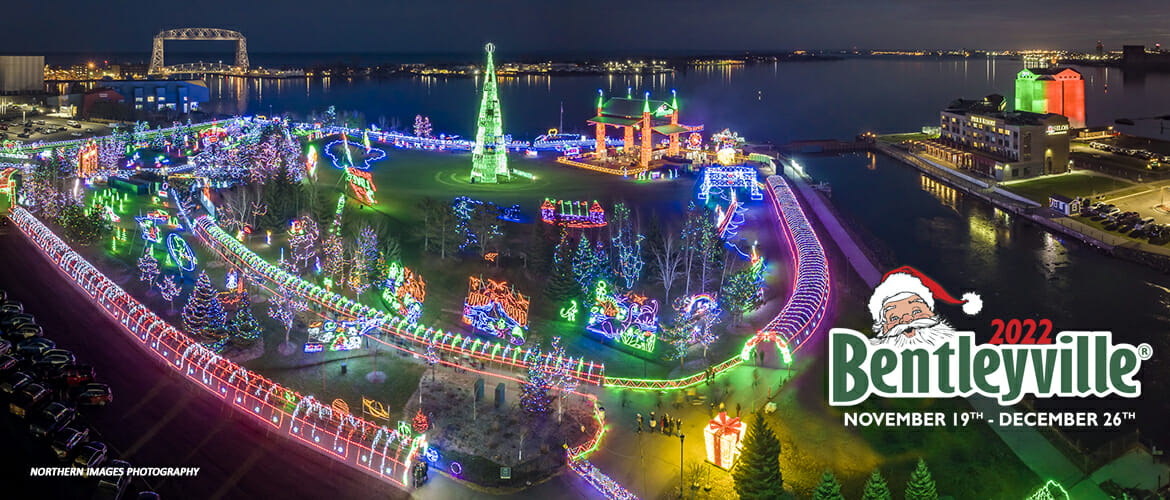 Bentleyville opens each night at 5 pm – including all Holidays! – Bentleyville will open Saturday, November 19th and continue through Saturday, December 26th. We will be open on Thanksgiving, Christmas Eve, and Christmas.
November 19th – December 26th, 2022
Sunday – Thursday 5 pm – 9 pm
Friday & Saturday 5 pm – 10 pm
Bentleyville is FREE – Bentleyville has free admission for all guests, as well as free hot cocoa & coffee, free cookies, free freshly popped popcorn, free marshmallows to roast, and free visits with Santa & Mrs. Claus! $10 per vehicle to park in the Bentleyville lots.
Downtown Duluth is once again offering a FREE shuttle service on Fridays and Saturdays to Bentleyville from Downtown and Canal Park!
The Canal Park Jingle Bus stop is at Buchanan Street near Canal Park Drive, while the Downtown Jingle Bus travels along Superior Street with stops at Greysolon Plaza, Holiday Center, and the Radisson Hotel.  Jingle Buses will have color-coded banners for each route and stops will be marked.  The service will be provided every Friday and Saturday night through December 18th. Buses run approximately every 10-20 minutes, starting at 5:00pm.

To Bentleyville from Buchanan Street
To Buchanan Street from Bentleyville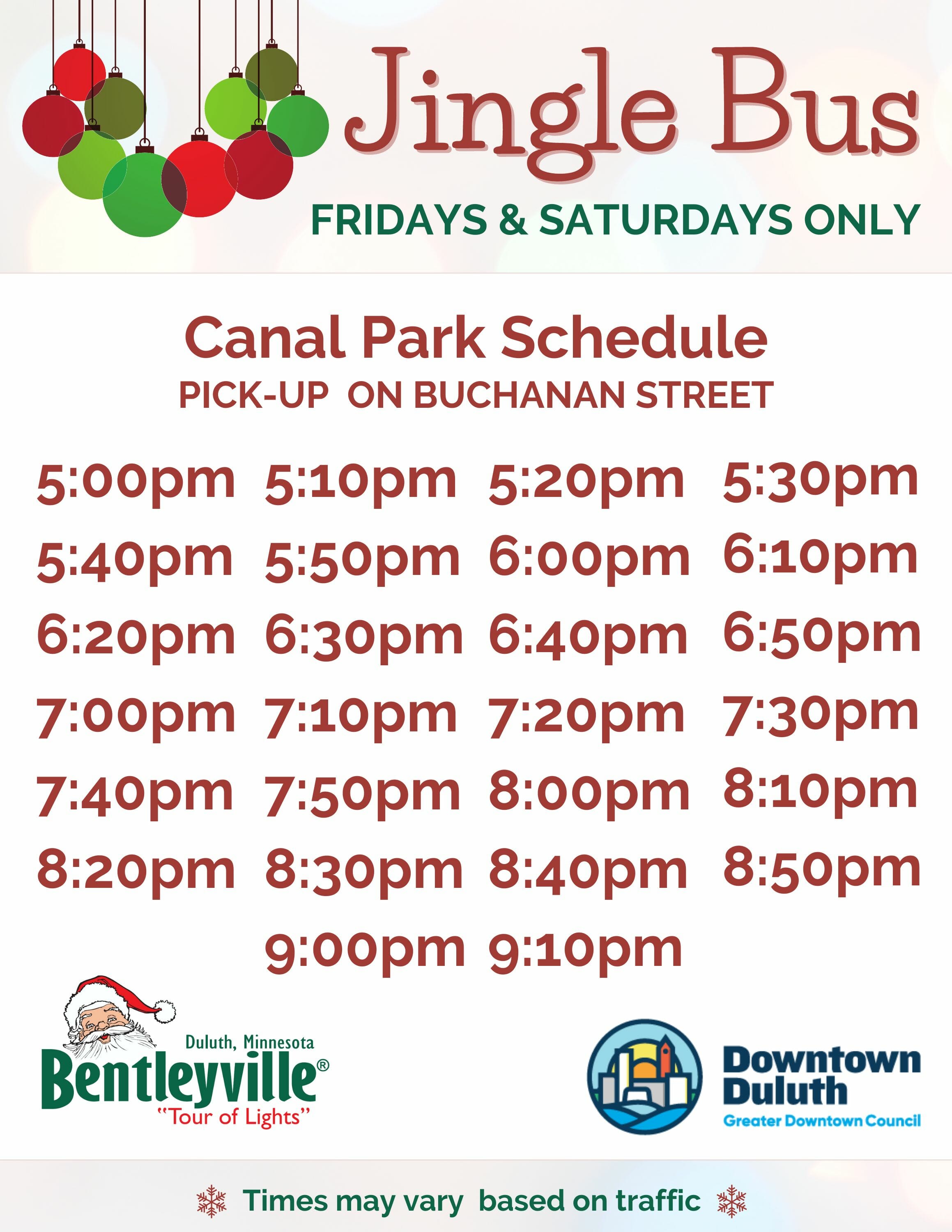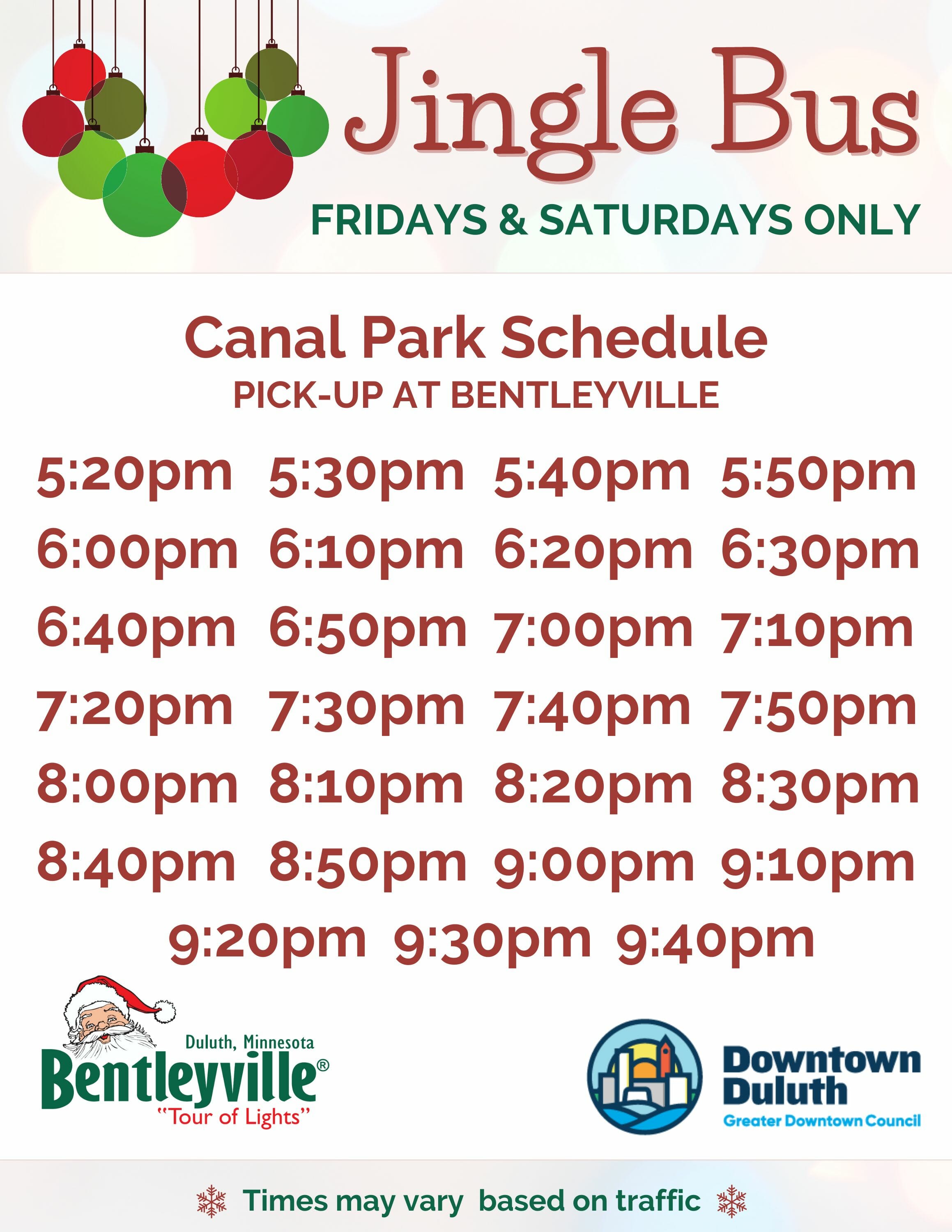 To Bentleyville from Greysolon
To Bentleyville from Holiday Center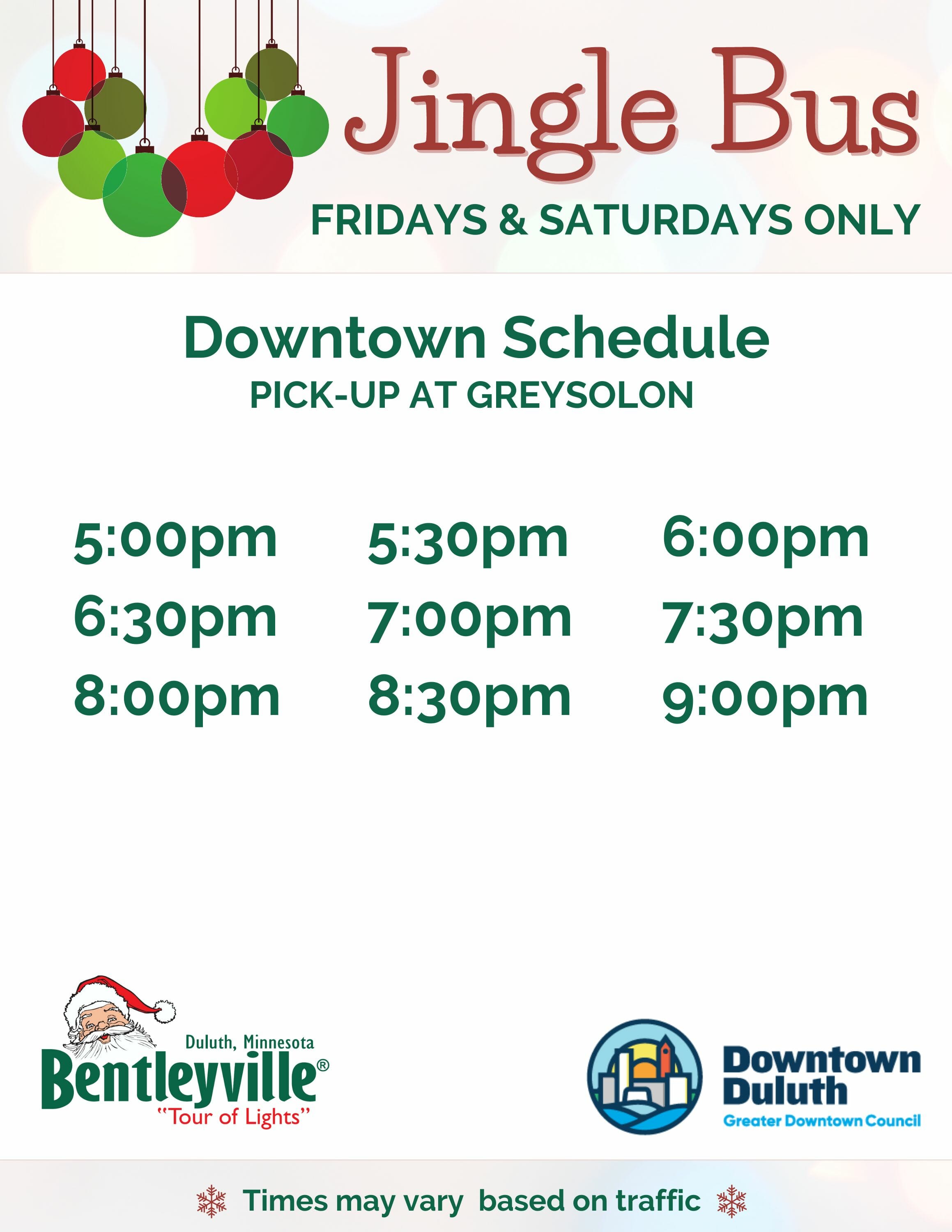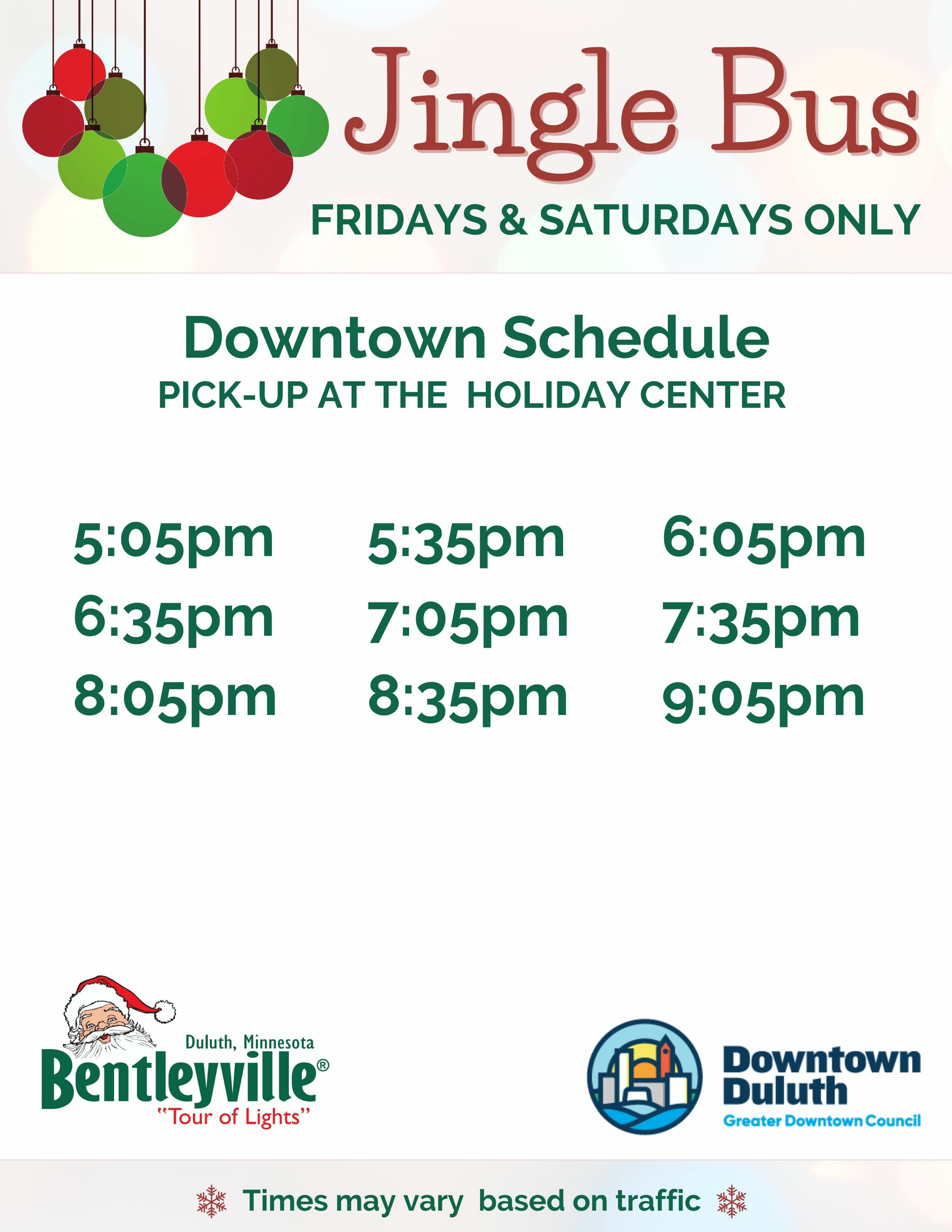 To Bentleyville from Radisson
To Downtown from Bentleyville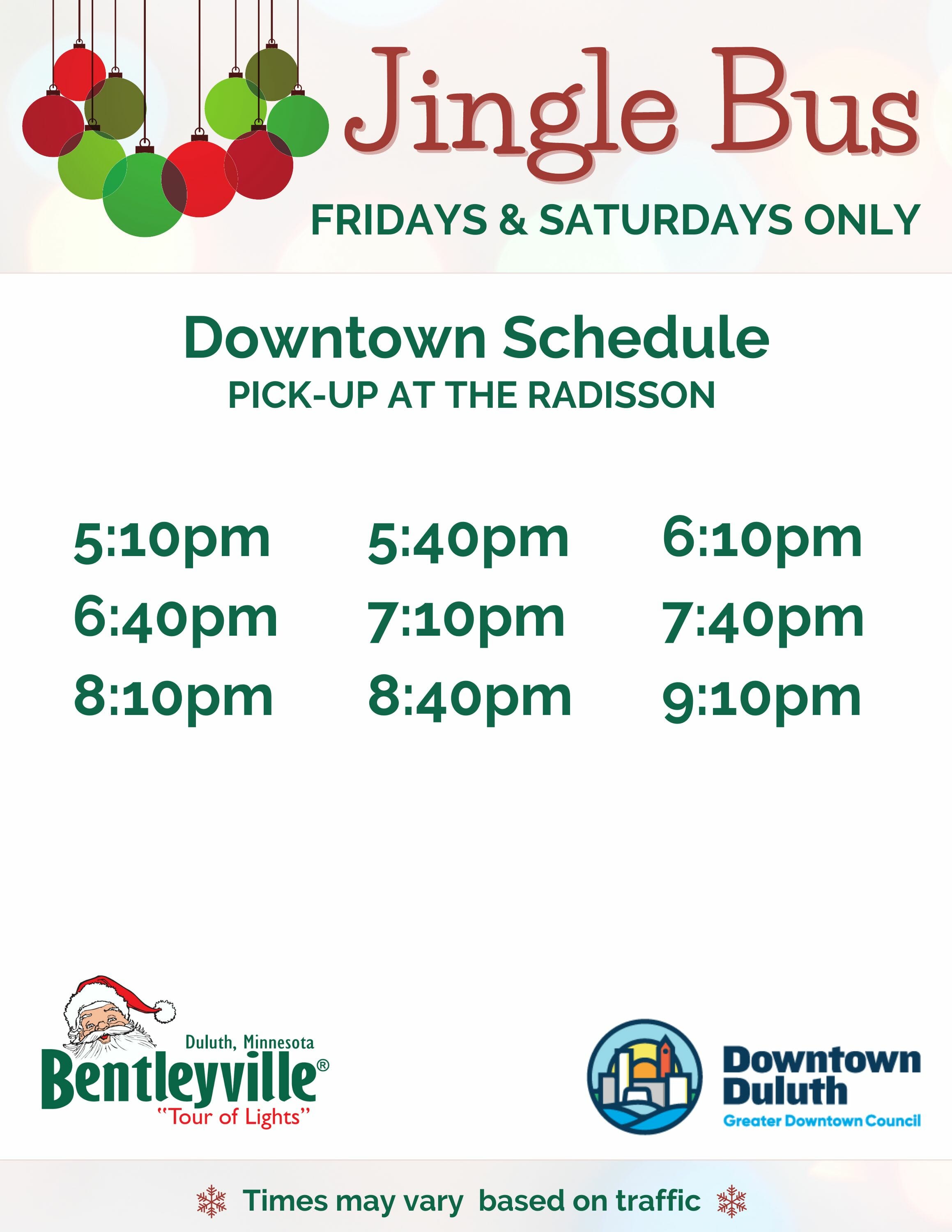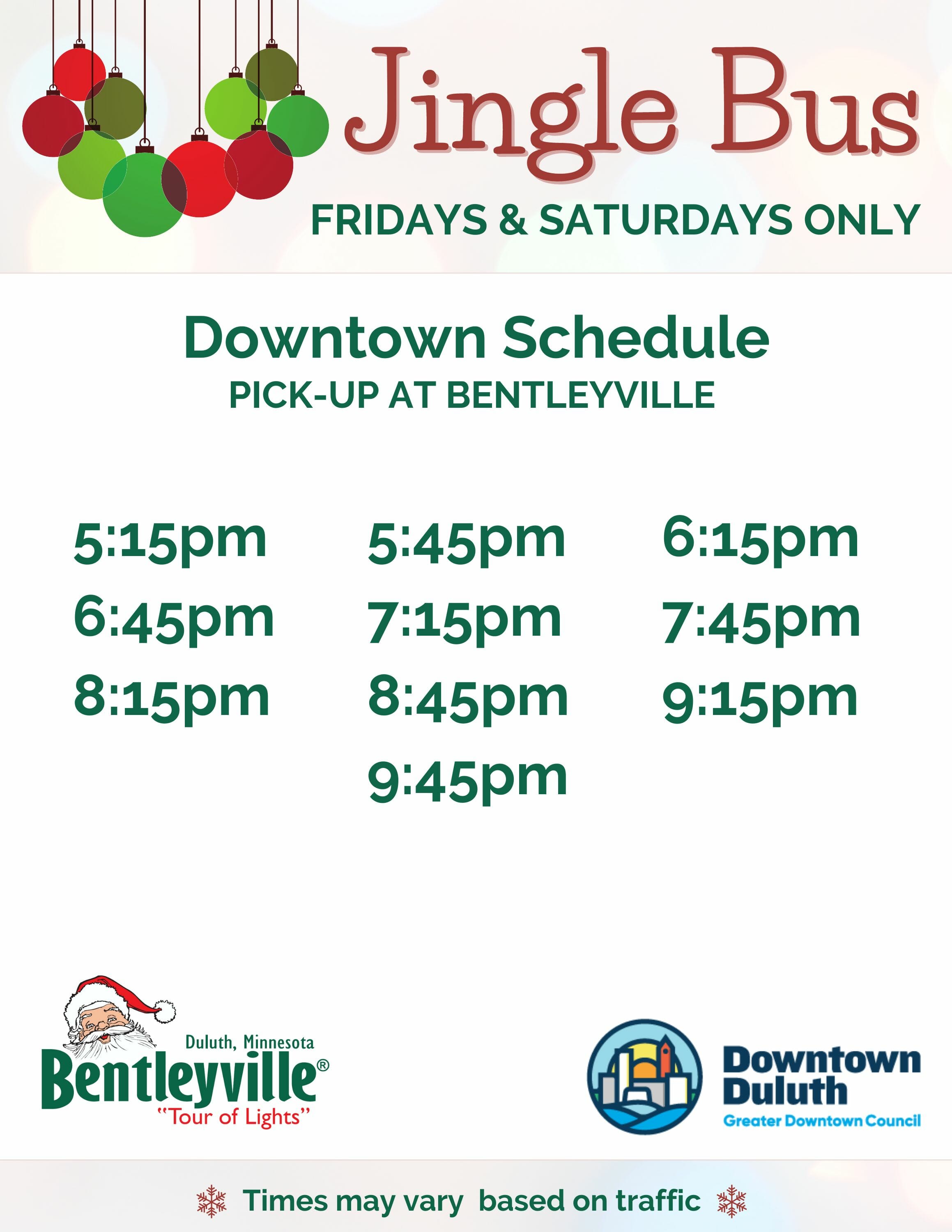 Holiday Window & Lighting Contest
Vote for your favorite Holiday Windows to enter for a chance to win some amazing local prizes! The contest runs from November 19th to December 10th. Winners will be announced at the December 13th Downtown Perk.
Ballots available at participating locations: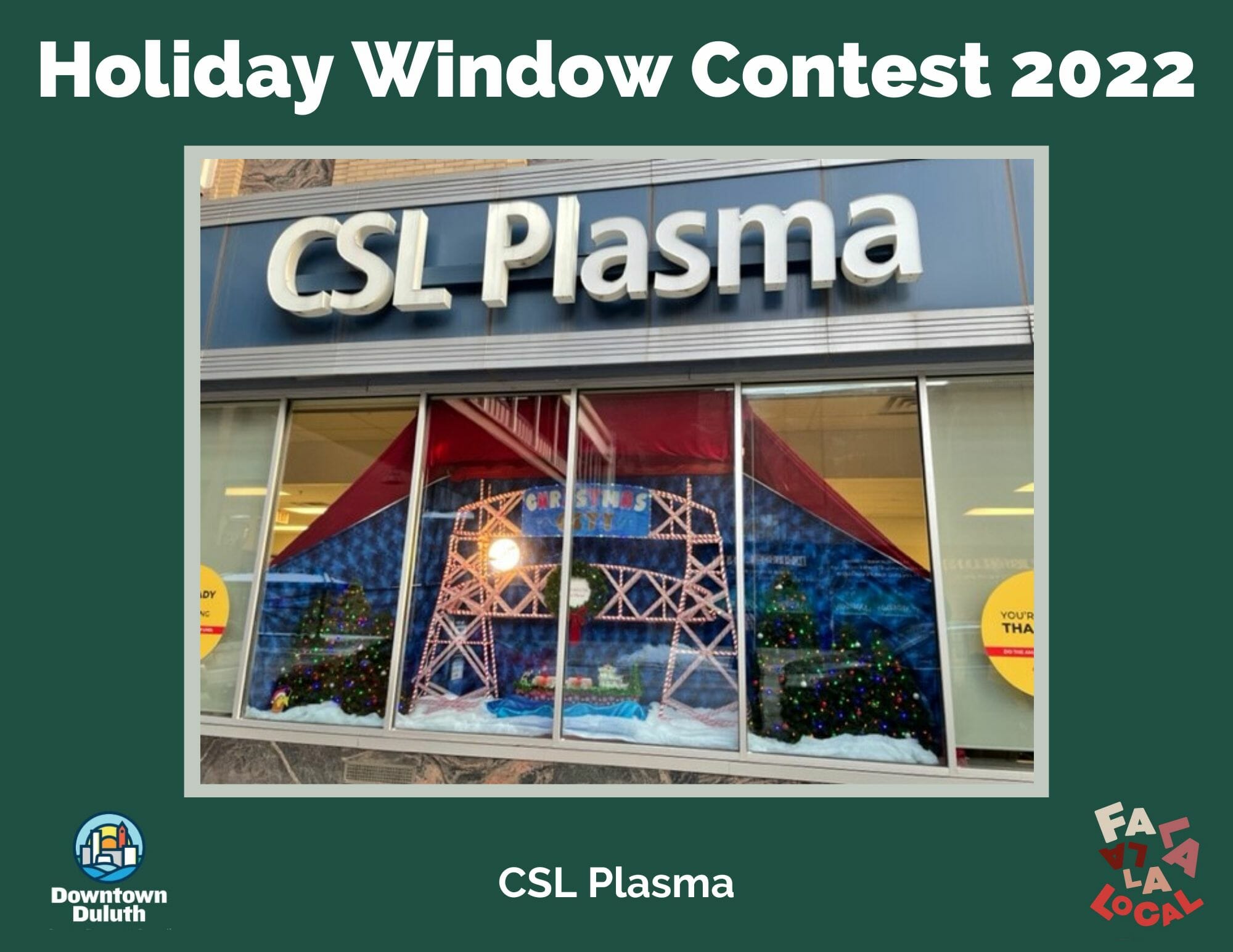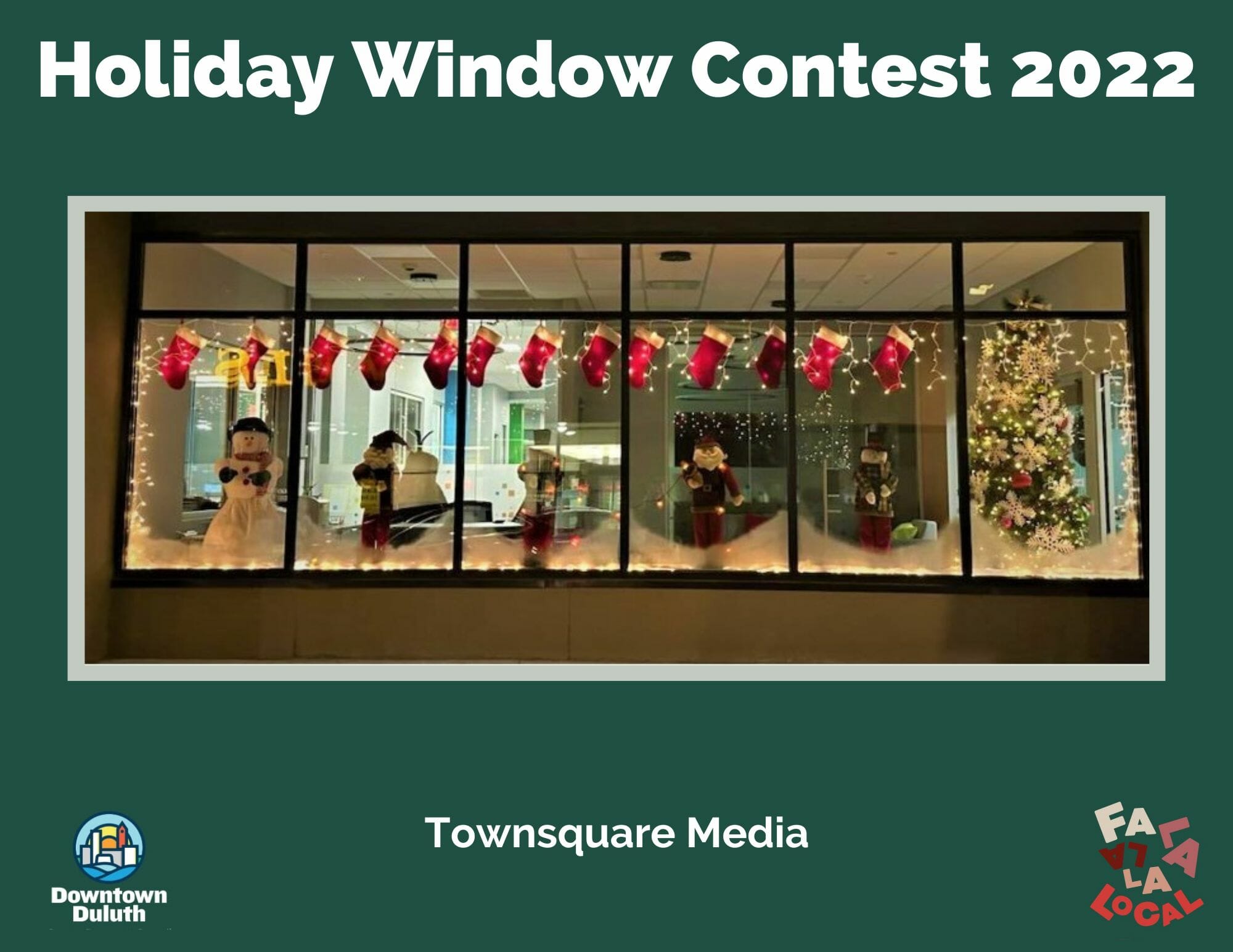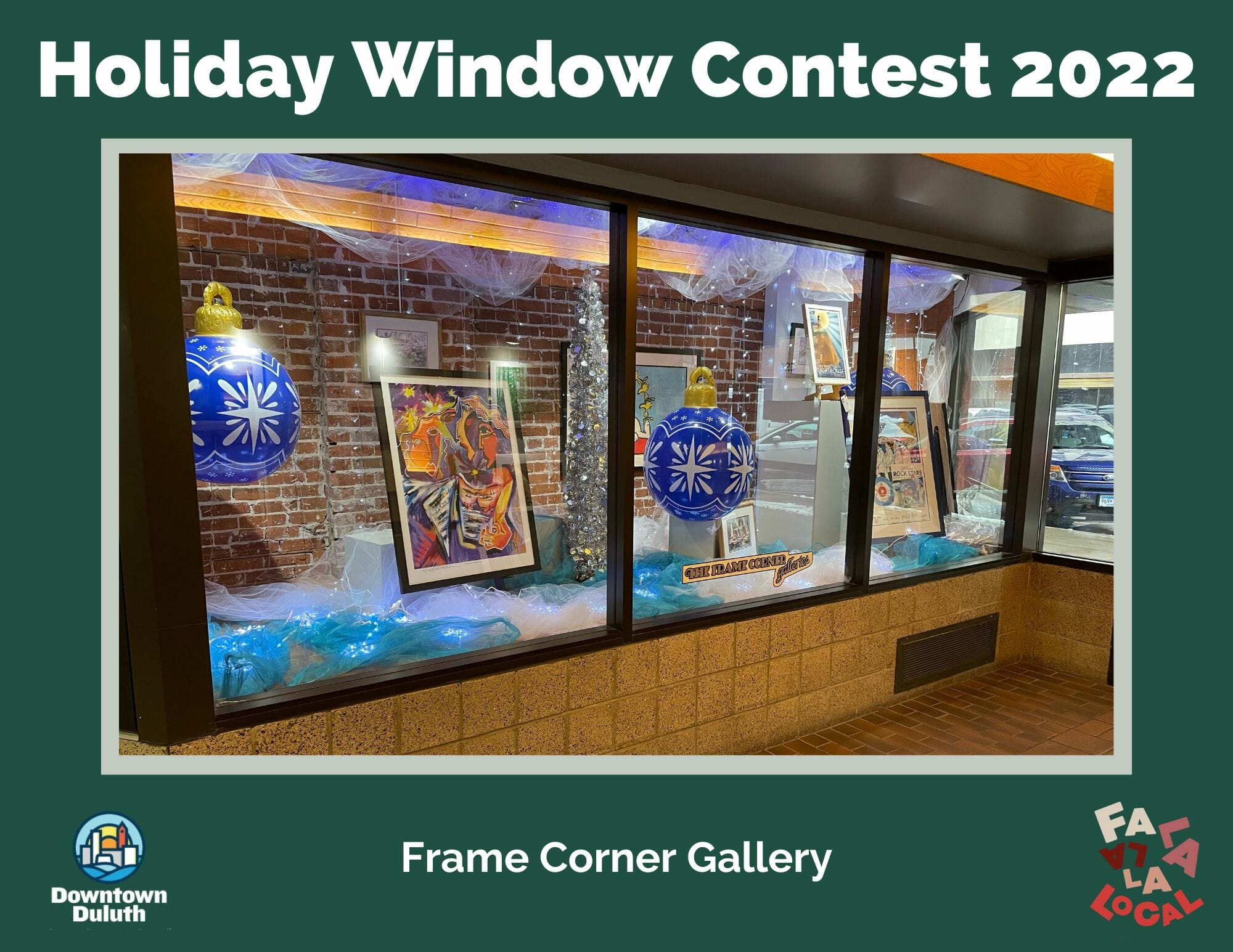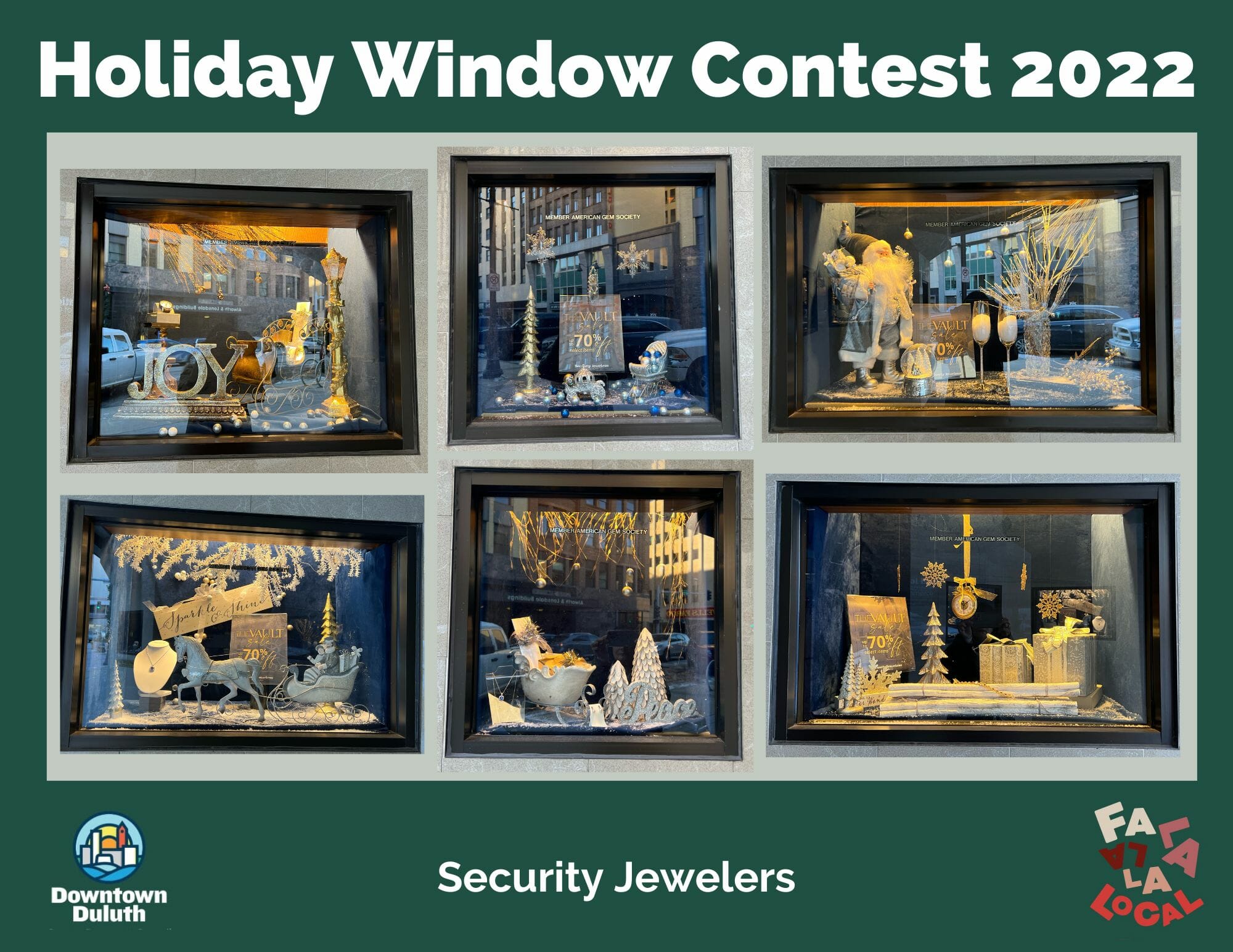 CSL Plasma
106 West Superior Street

Townsquare Media
207 West Superior Street


Frame Corner
323 West Superior Street
Security Jewelers
307 West Superior Street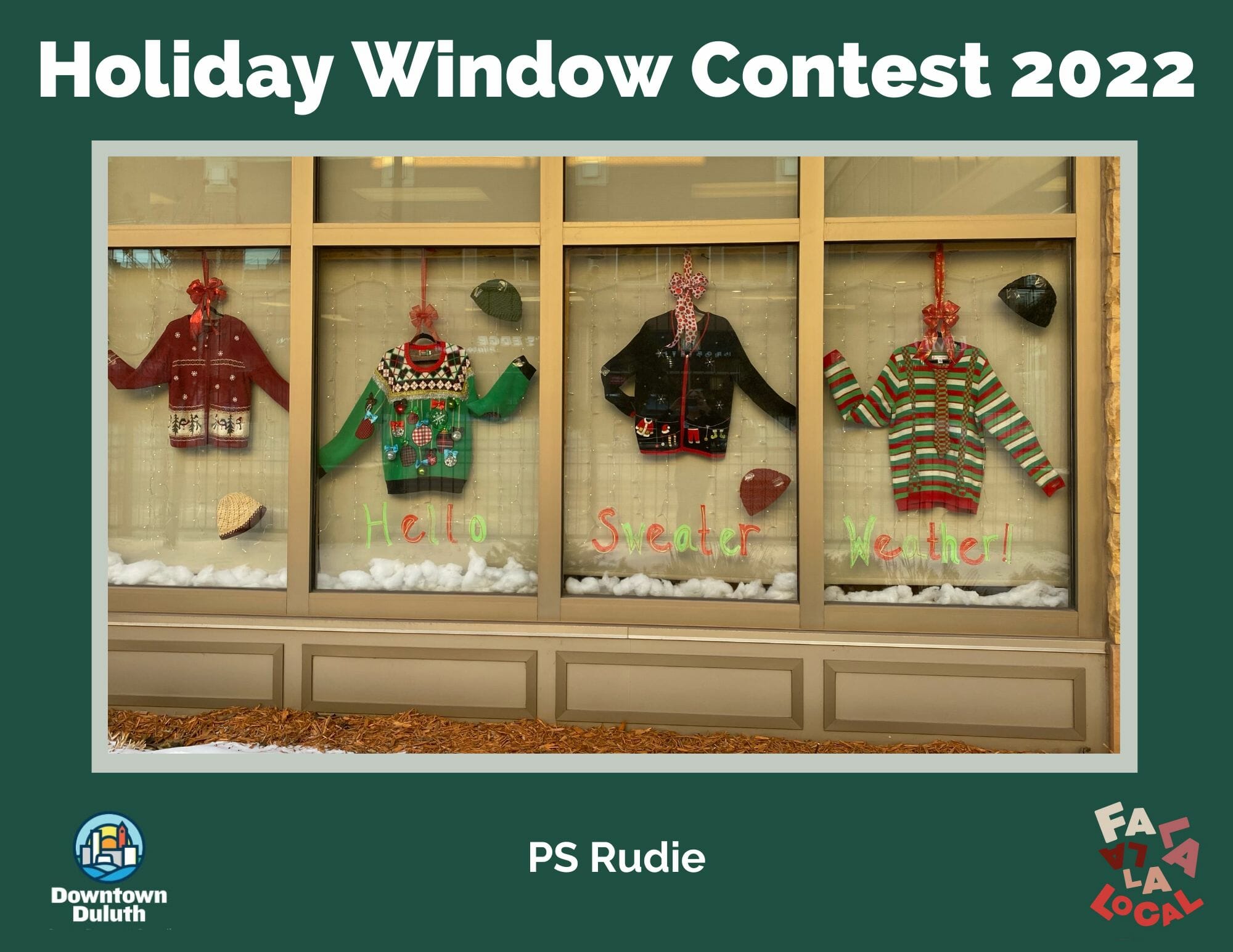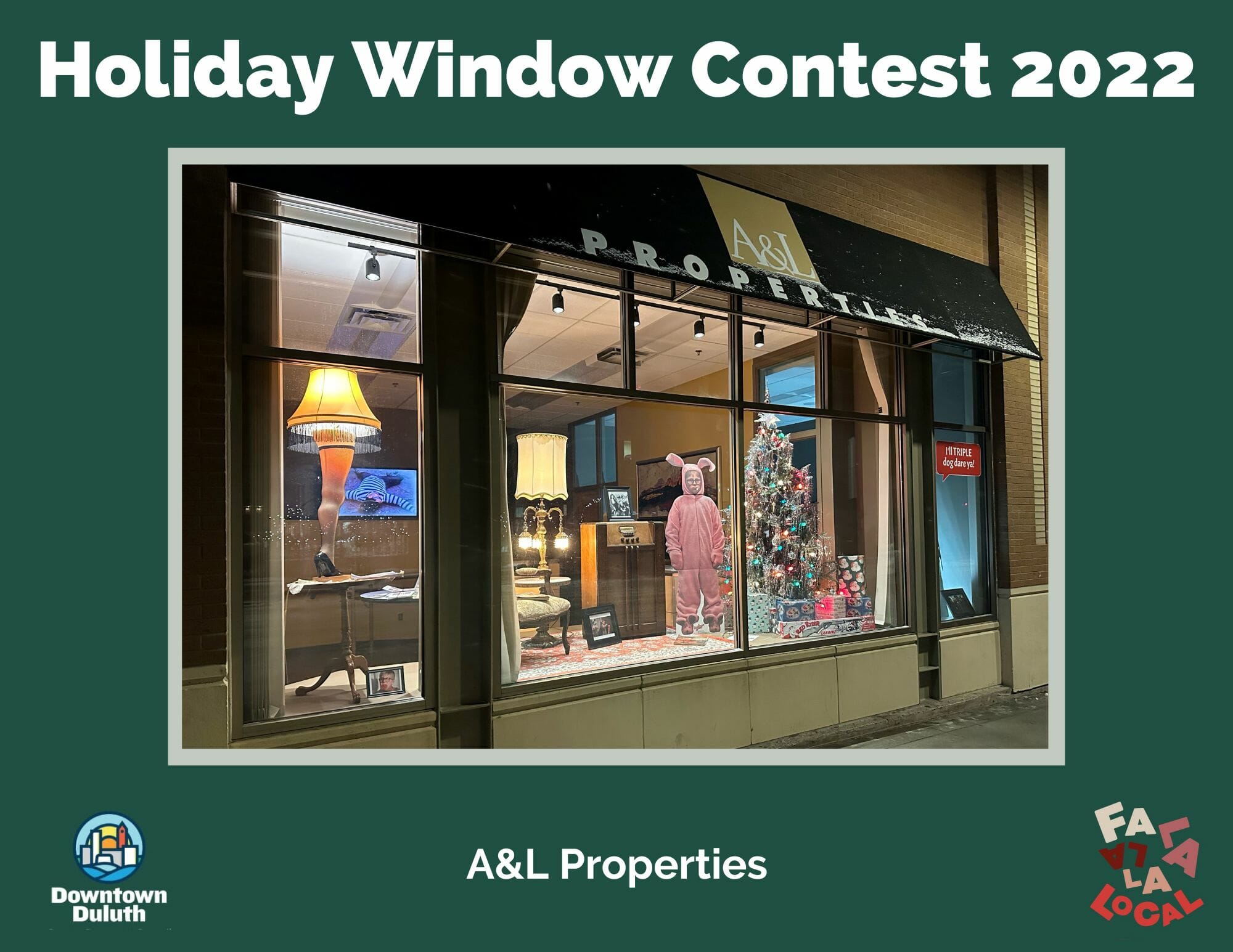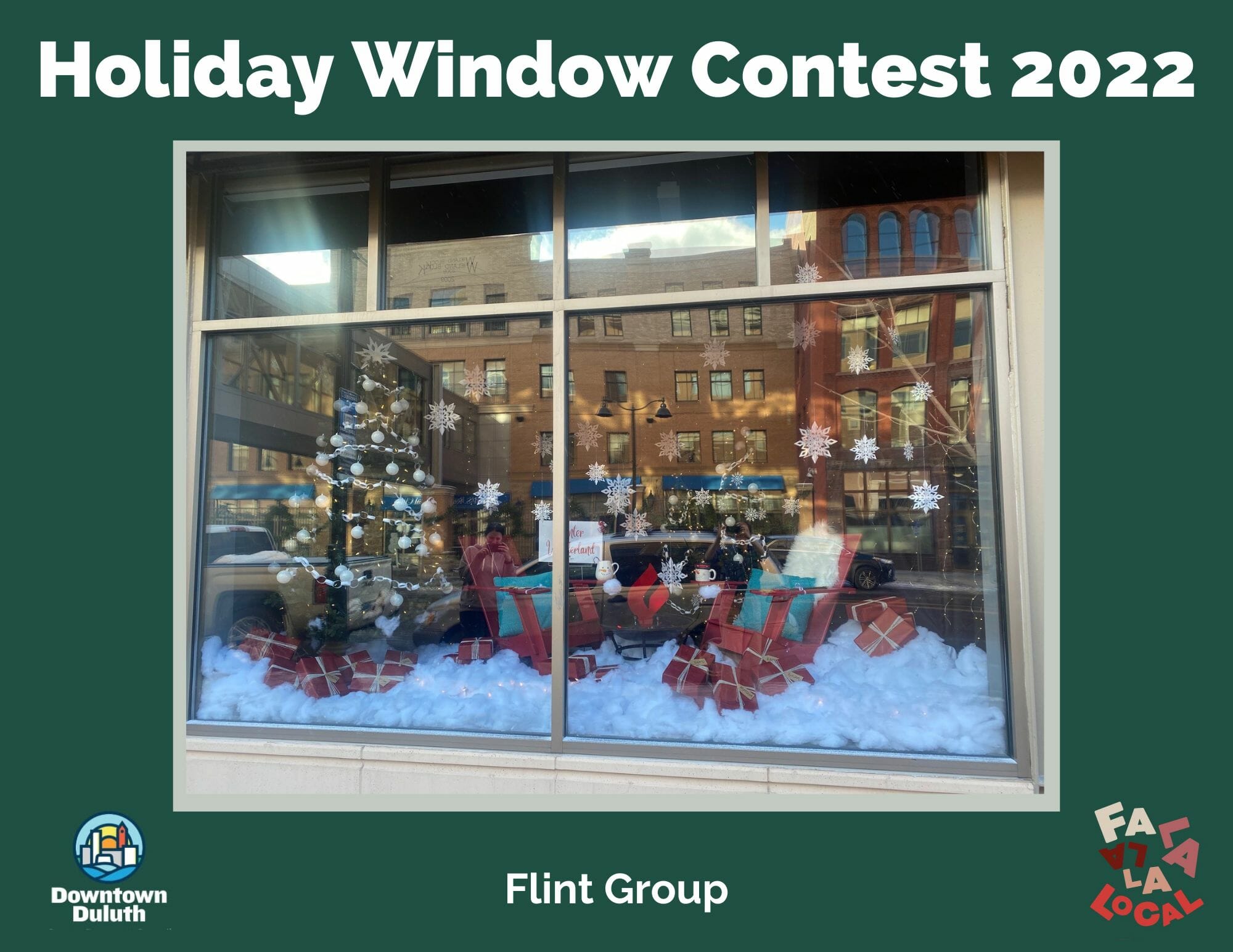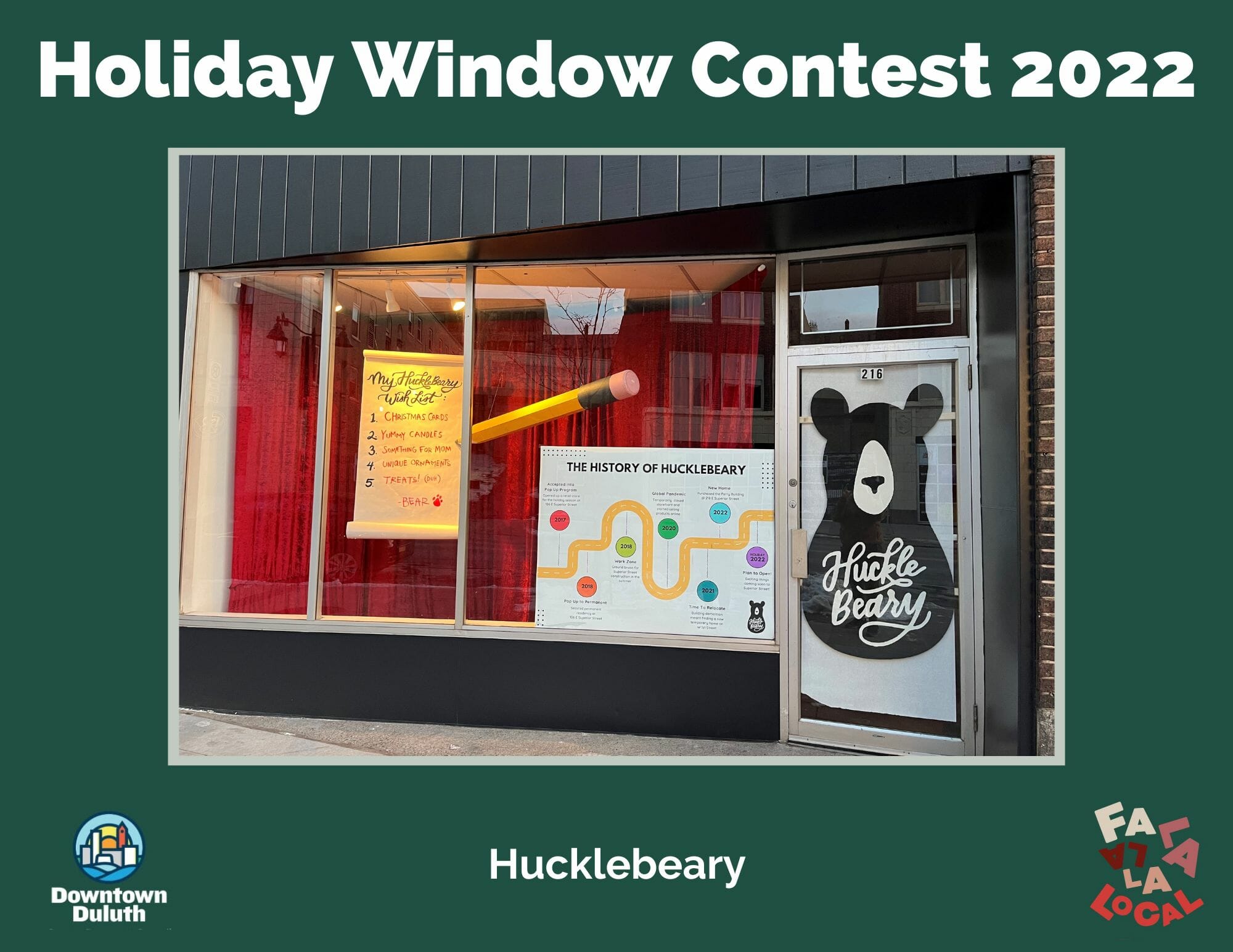 PS Rudie
26 East Superior Street
A&L Properties
11 East Superior Street

Flint Group
11 East Superior Street

Hucklebeary
218 East Superior Street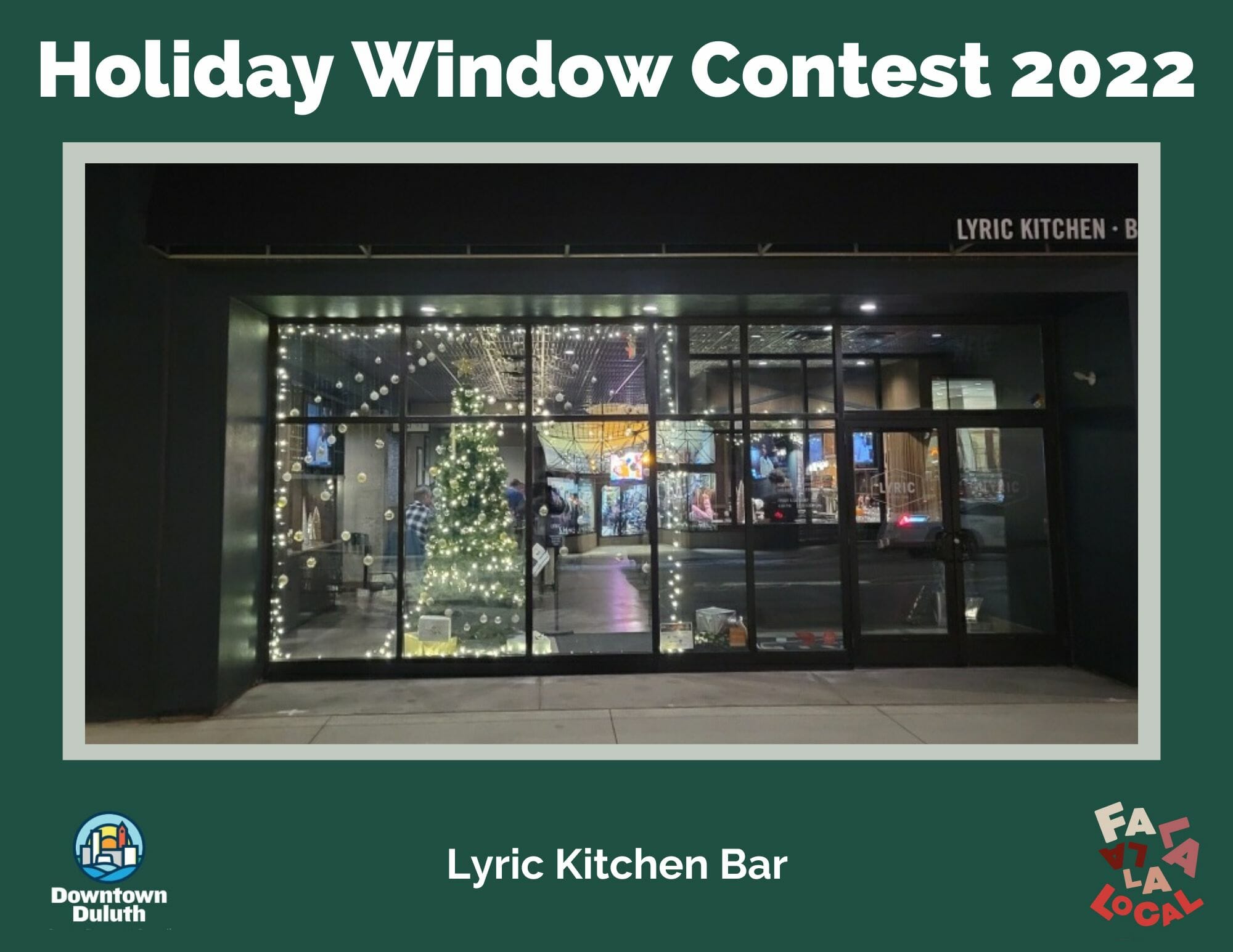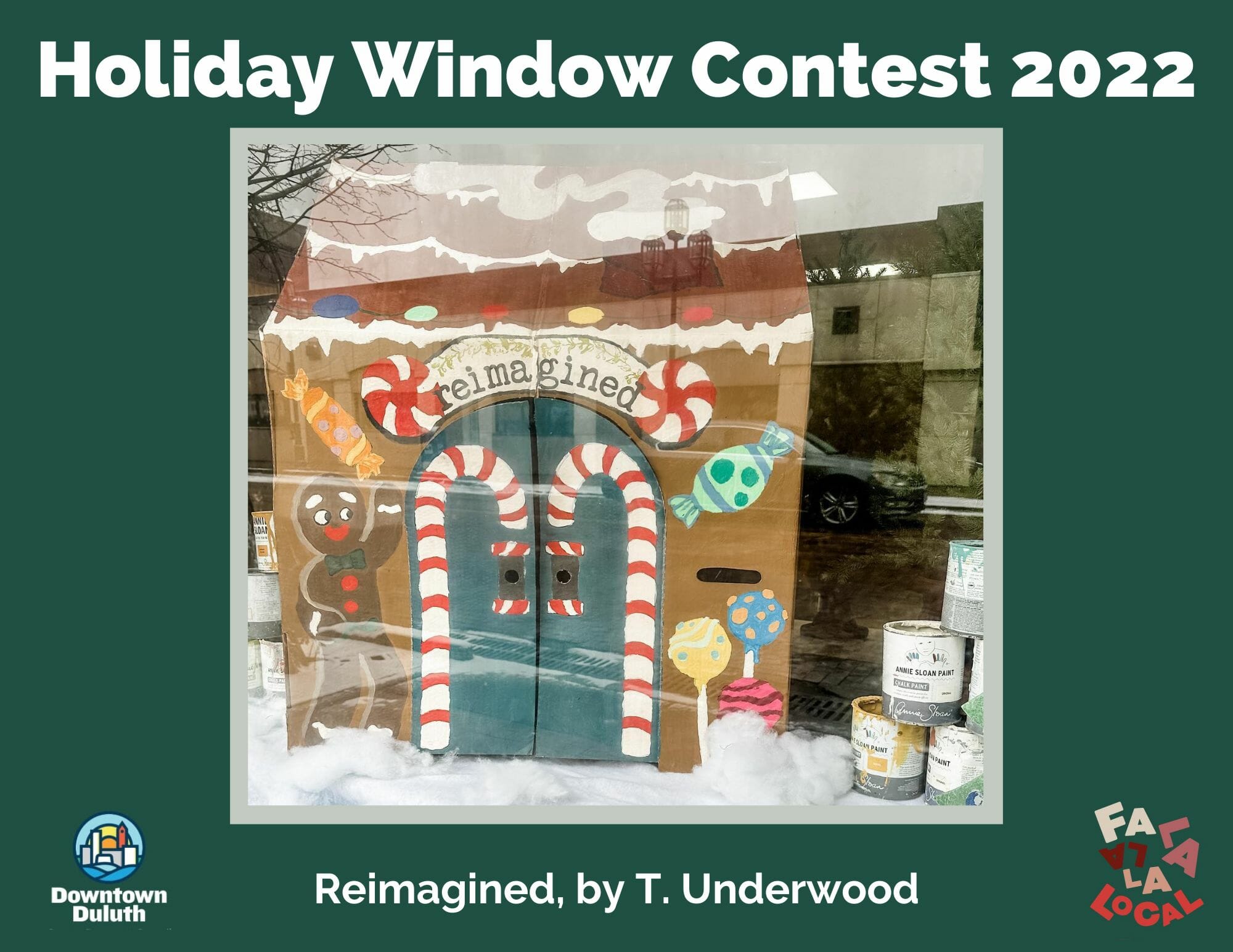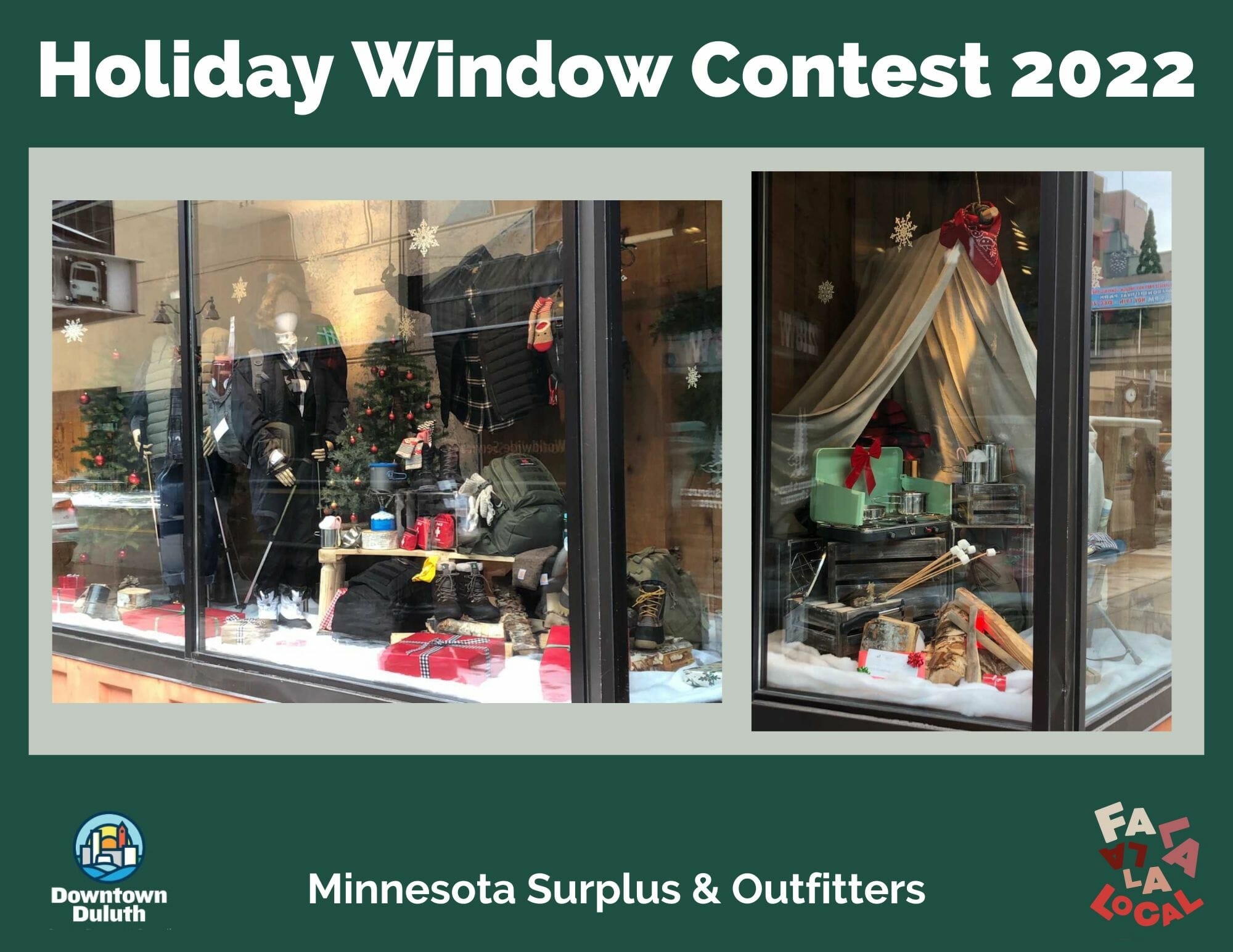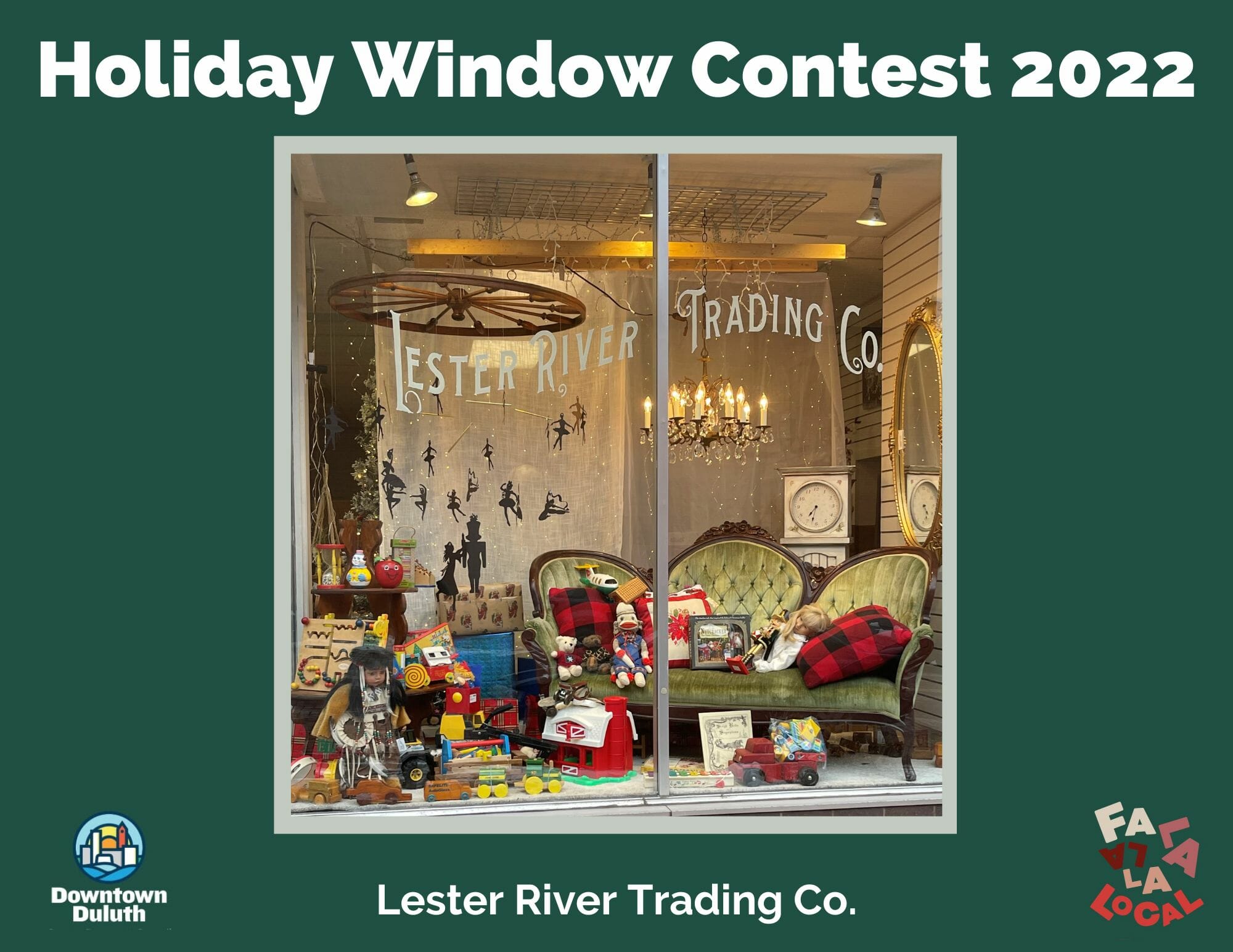 Lyric Kitchen Bar
205 West Superior Street

Reimagined by T. Underwood
138 West 1st Street

Minnesota Surplus & Outfitters
218 West Superior Street

Lester River Trading Company
28 North 3rd Ave West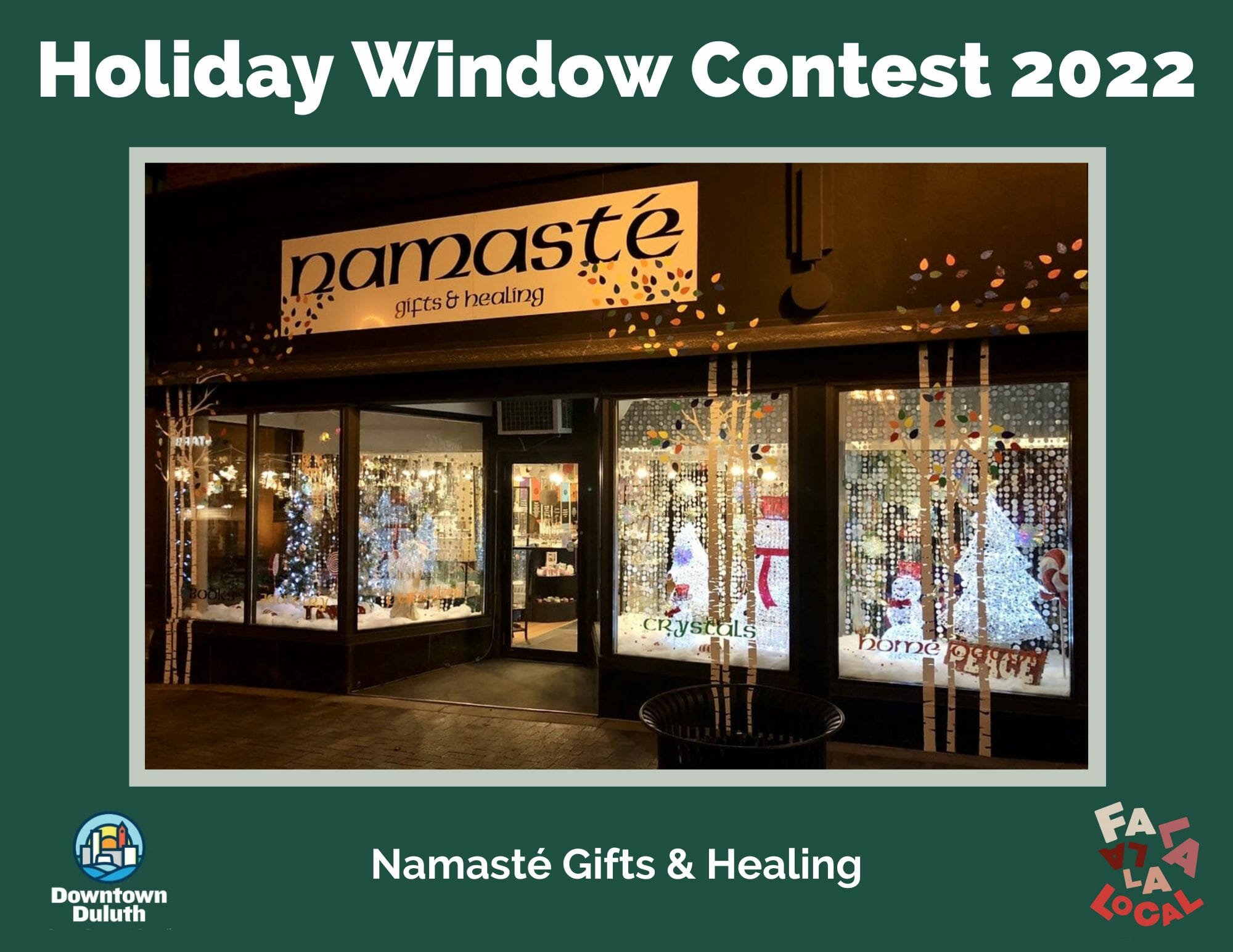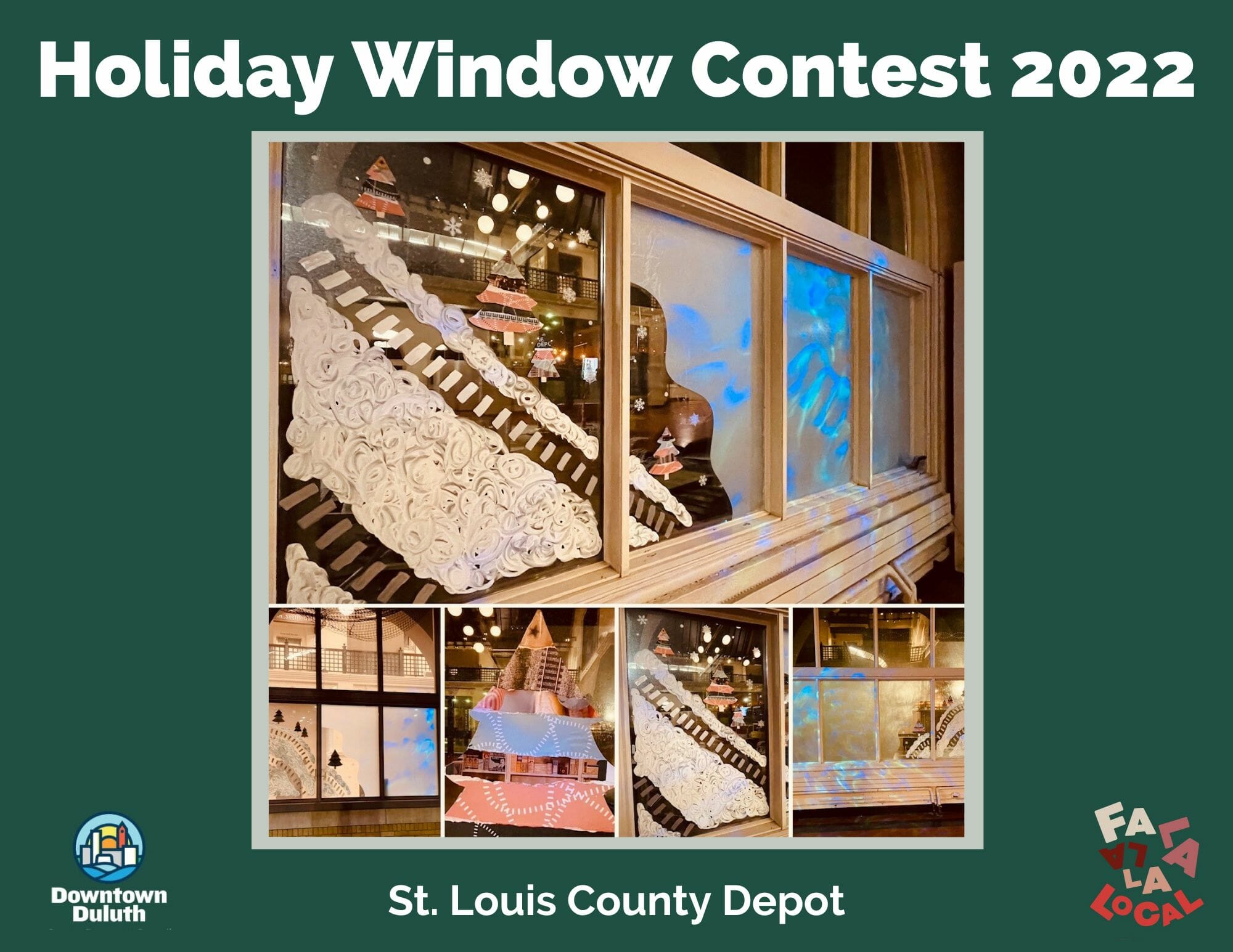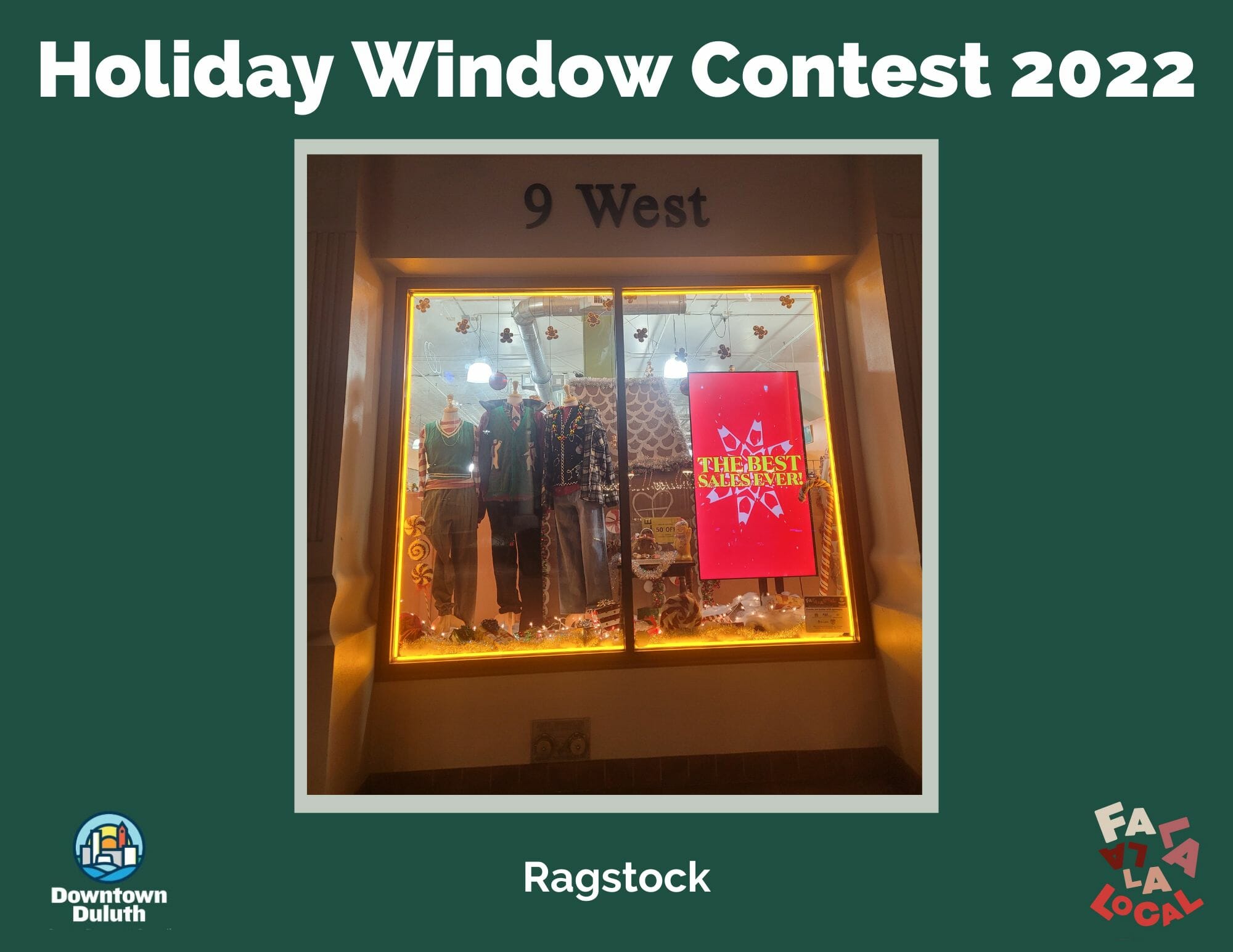 Namasté Gifts & Healing
400 West Superior Street
St. Louis County Depot


506 West Michigan Street
Ragstock


9 West Superior Street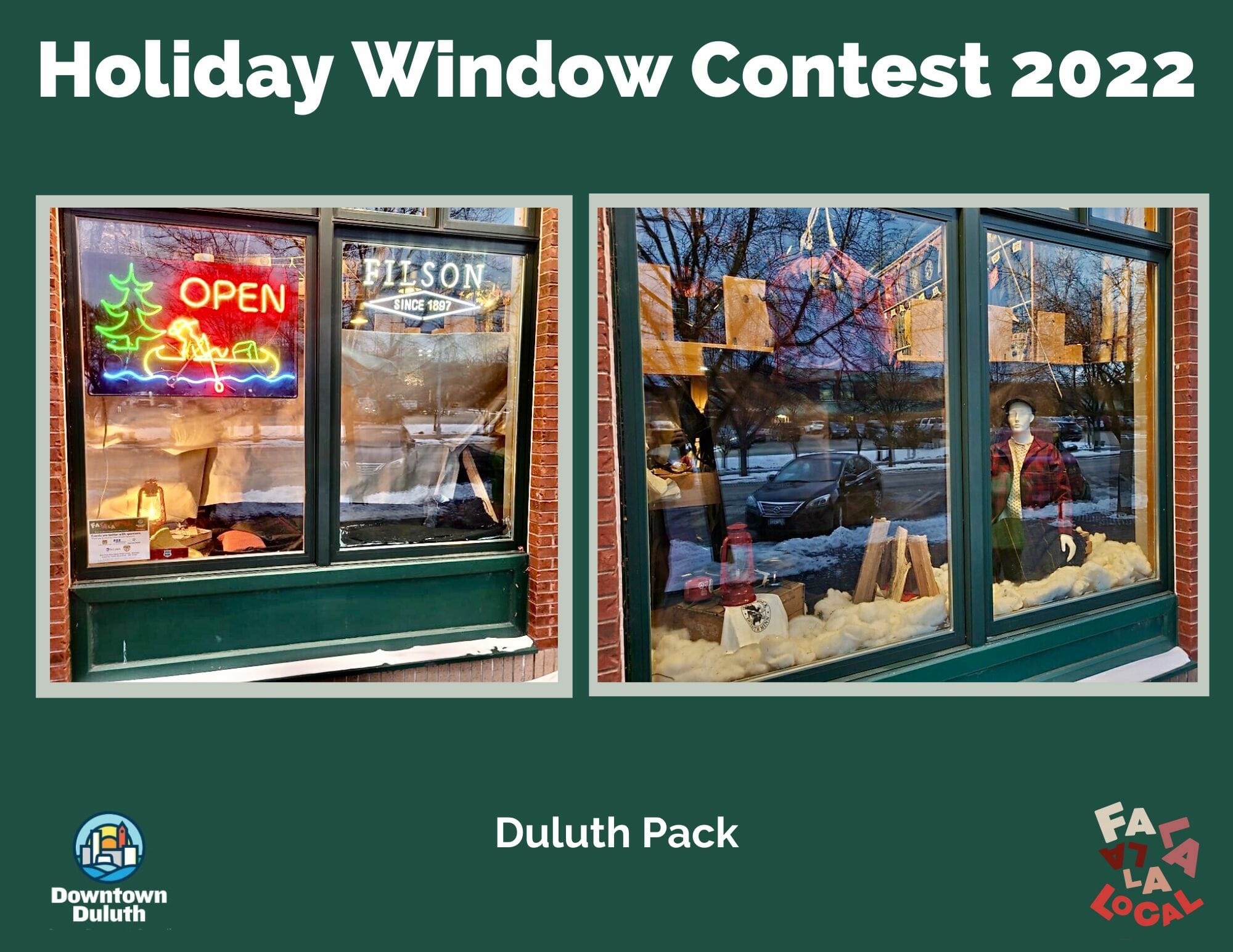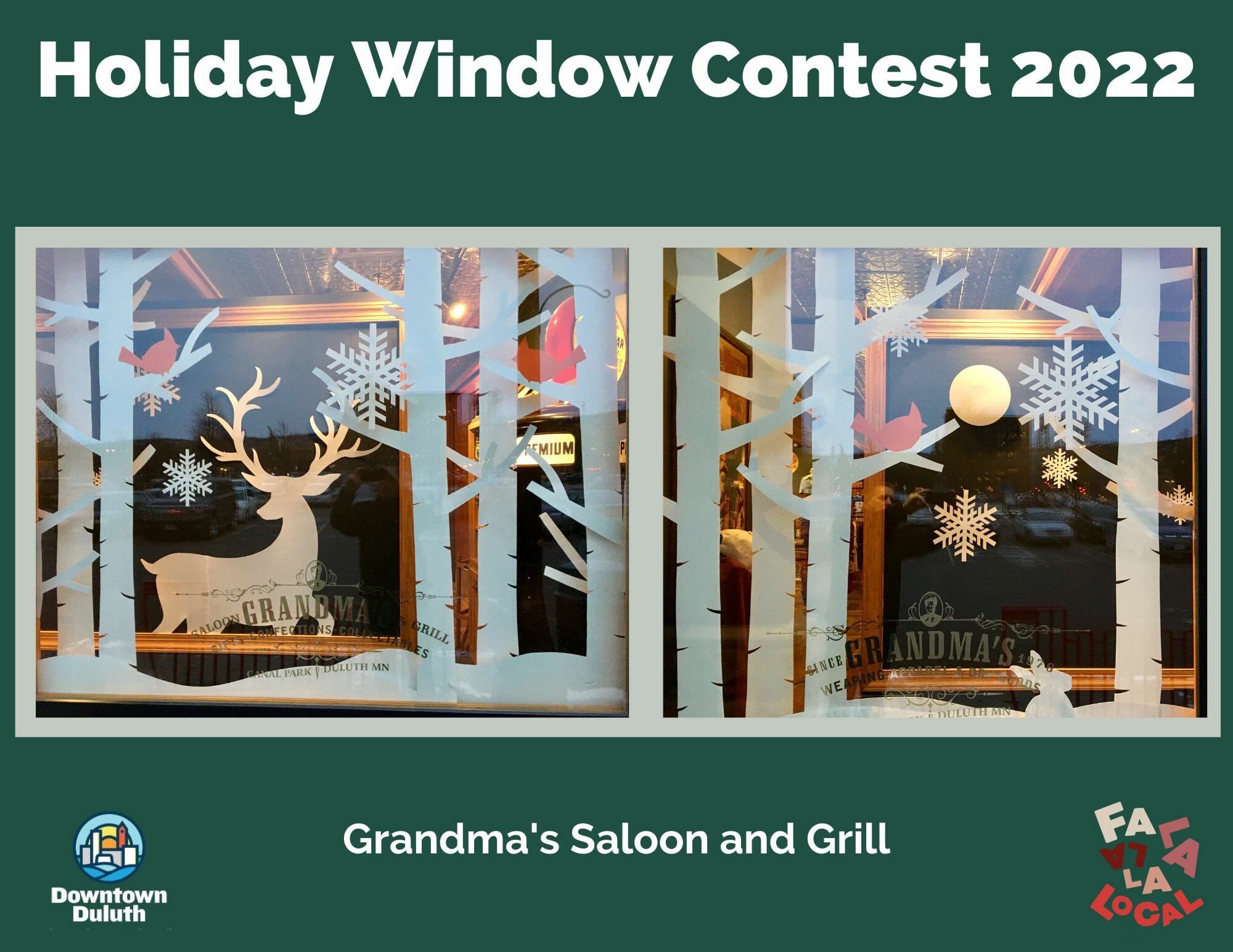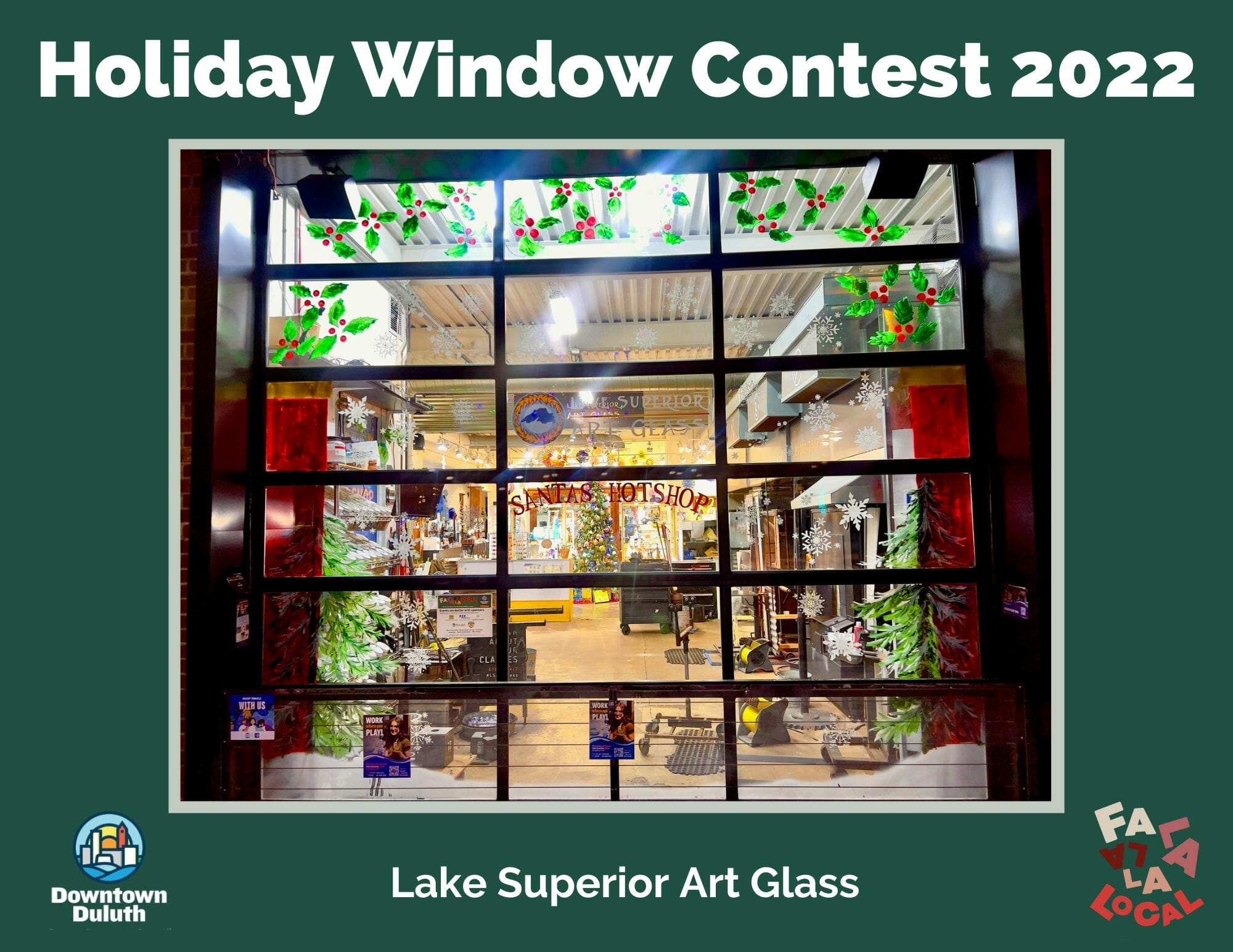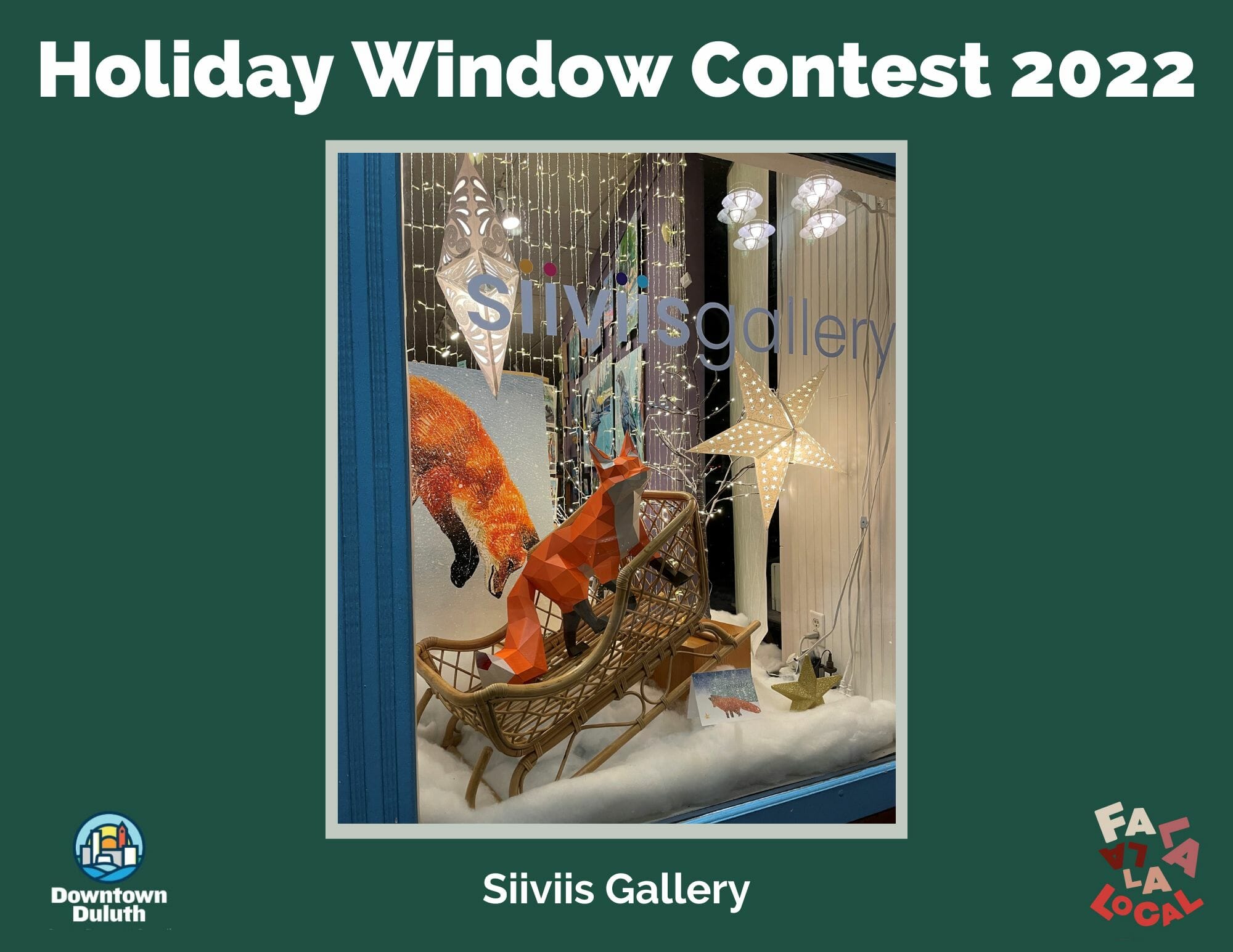 Duluth Pack
365 Canal Park Drive

Grandma's Saloon & Grill
522 South Lake Avenue

Lake Superior Art Glass
357 Canal Park Drive

Siiviis
361 Canal Park Drive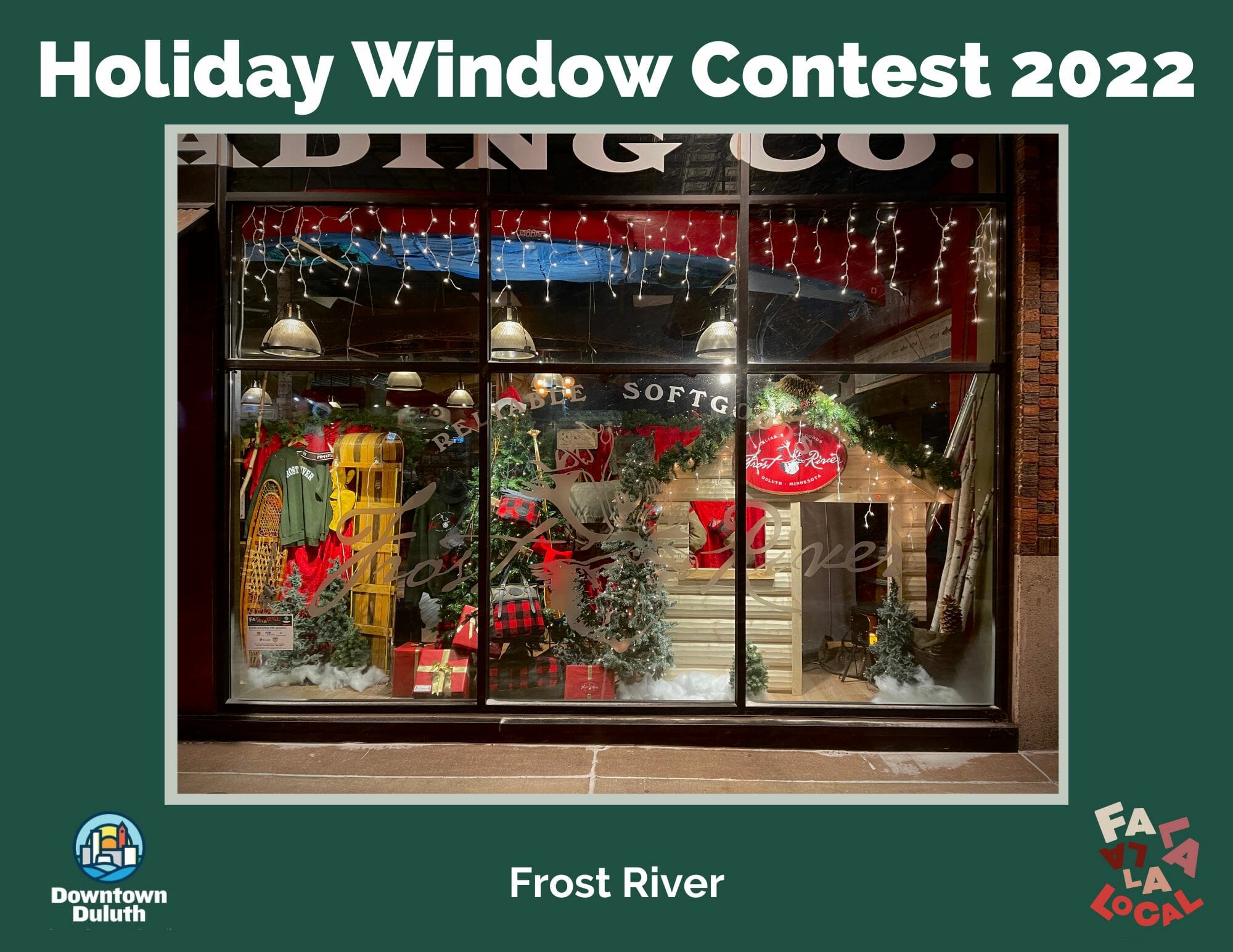 Frost River Trading Co.
1910 West Superior Street

Esquire Magazine

 listed Duluth as #3 on their 27 Best Christmas Towns to Put on Your Holiday Bucket List! With notable attractions like

Bentleyville USA

and

Duluth Winter Village

, we couldn't agree more that this is what Christmas magic looks like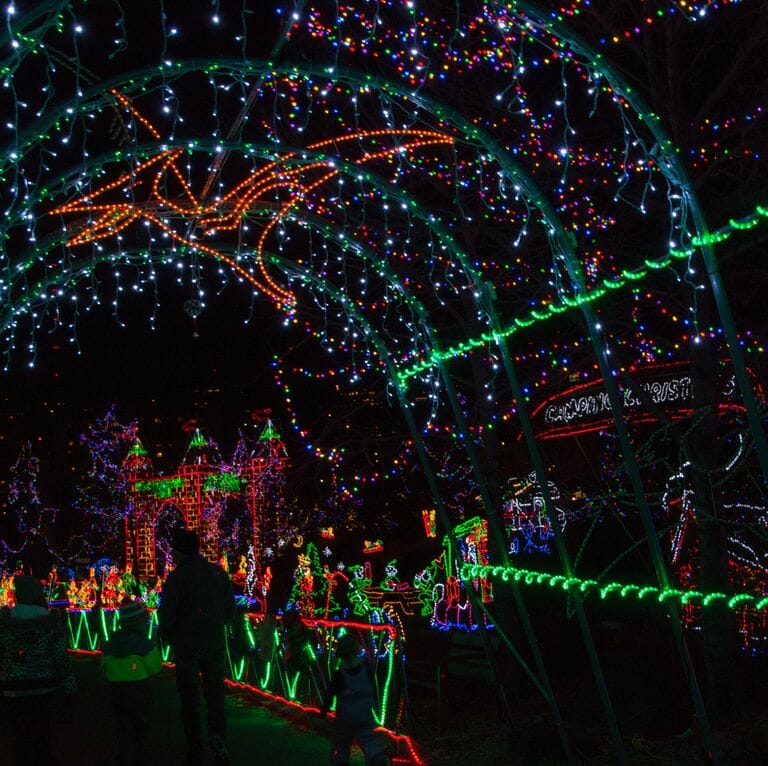 "Thousands flock to Duluth during the holidays to witness Bentleyville, a massive light display. The event is free to the public and runs through November and December. There's also a scenic train journey along Lake Superior, as well as a bustling Christmas village set up in front of the historic Glensheen mansion."